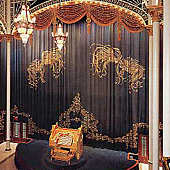 1927 Wurlitzer organ at the Sanfilippo Music Salon
The Art of the Theatre Organ
Gear up for a super-sonic adventure, as Stephen Adams of the American Theatre Organ Society joins me for a selective survey of organ music in popular mode. We'll listen to top American talent Lyn Larsen on Wurlitzers in public arenas and private music rooms. Legendary British greats Reginald Foort, Quentin Maclean and Sidney Torch recall the styles of yesteryear, while the inimitable George Wright presents his indellible art at the San Francisco Fox and in three different metamorphoses of instruments custom designed to match his magic touch.
Hasten to recall that before it's involvement with the church, the pipe organ was an instrument of the people, as we listen to The Art of the Theatre Organ.
Listen to the program
For the convenience of those of you with mobile devices, now you can listen to our PIPEDREAMS audio at http://www.yourclassical.org!
Program Broadcast dates:
•August 26, 1996 as Show #9635
•July 28, 2003 as Show #0330
Music played in the program
LYN LARSEN: Armed Forces Medley. GEORGE M. COHAN: Give my regards to Broadway –Lyn Larsen (1926 Wurlitzer/Century II Convention Center, Wichita, KS) Pro Arte CD-281 & Pro Arte CD-339
COLE PORTER: At long last love. ARTHUR FIELDS: Aba Dabba Honeymoon –Lyn Larsen (1927 Wurlitzer/Place de la Musique, Sanfilippo Residence, Barrington, IL) Musical Contrasts CD-207
STEPHEN SONDHEIM: Send in the clowns, from A Little Night Music. ANONYMOUS: Temptation Rag. RICHARD RODGERS: The Sound of Music Medley –Tom Hazleton (Wurlitzer hybrid/Nethercutt Collection, San Sylmar, CA) Klavier K 77006
FRITZ KREISLER: Liebesfreud –Reginald Foort (Compton/BBC Variety Hall, England, UK) KERRY MILLS: Whistling Rufus –Terance Casey (Wurlitzer/Regent Theatre, Brighton, England, UK) Beulah CD-IPD7
EDWARD GERMAN: Medley. ALBERT KETÈLBY: In a monastery garden –Quentin Maclean (Wurlitzer/Trocadero Cinema, London, England, UK) Sterndale CD-1016; Pearl CD-9722
PETTIS-MEYERS-SCHOEBEL: Bugle Call Rag –Sidney Torch (Christie organ/Regal Cinema, Edmonton, London, England, UK) Sterndale CD-1001
LESLIE CLAIR: Dance of the blue marionettes –Sidney Torch (1928 Christie/Regal Cinema, Marble Arch, London, England, UK) Sterndale CD-1002
VANCE-POCKRISS: Itsy bitsy teenie weenie yellow polkadot bikini. GEORGE WRIGHT: The Blue Dove –George Wright (Hollywood Philharmonic Organ/George Wright Residence, Hollywood, CA) Banda CD-438
RAYMOND SCOTT: Twilight in Turkey. FRANK BJORN: Alley Cat –George Wright (Studio Organ, Pasadena, CA) Banda CD-82820
MERCER-CARMICHAEL: Skylark –George Wright (Hollywood Philharmonic Organ/George Wright Residence, Hollywood, CA) Banda CD-109454