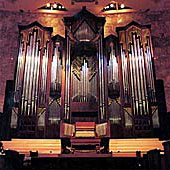 1990 Möller organ at Calvary Church, Charlotte, NC
Matrimonial Magic
If this music makes you think of weddings and beautiful brides, you're right on target. This broadcast is a collection of preludes, processionals and other pages in praise of matrimony and the emotions and circumstances which lead us to the altar. Whether it be Handel's Hornpipe or Mendelssohn's familiar Wedding March, a Salute to Love by Elgar, or Duke Ellington's In a sentimental mood, you'll be amazed by the various ways composers have dealt with love and its ramifications.
Trumpet tunes and blessings, salutes to love and lullabies, it's all part of the package when two people tie the knot at a June wedding, and we provide the music appropriate to a chapel or cathedral creating Matrimonial Magic.

Listen to the program
Program Broadcast dates:
Music played in the program
SIR HUBERT PARRY: Bridal March –Douglas Major (1938 Ernest M. Skinner & Son; 1975 Aeolian-Skinner/National Cathedral, Washington, DC) Gothic G18828
JEREMIAH CLARKE: Trumpet Voluntary. G.F. HANDEL: Hornpipe –Stephen Cleobury (1984 Harrison/Westminster Abbey, London, England, UK) London/Decca 421 638
ANONYMOUS: Almande d'amor –Gustav Leonhardt (1691 Botzen; 1991 Marcussen/Roskilde Cathedral, Denmark) Sony Classical SK 53371
TRADITIONAL: Swedish Song, Now found is the fairest of roses –Anne-Lise Berntsen; Nils Henrik Asheim (1787 Holzhey/Weißenau Abbey, Germany) Kirkelig Kulturverksted FXCD136
WILLIAM McKIE: Romance in G –Thomas Heywood (1929 Hall, Norman & Beard; 2000 Schantz/Town Hall, Melbourne, Australia) Move Digital 3120
DAN MILLER: Fanfare for the Bride. RICHARD WAGNER: Bridal Chorus, from Lohengrin –Dan Miller (1990 Möller/Calvary Church, Charlotte, NC) DSDS CD-1004
SIR EDWARD ELGAR: Salut d'Amour –Adrian Partington (1909 Binns/Albert Hall, Nottingham, England, UK) Priory PRCD479
MAURICE RAVEL: Don Quichotte a Dulcinea –Håkan Hagegård, baritone; Gunnar Idenstam (1949 Marcussen/Oscarskyrkan, Stockholm, Sweden) Proprius PRCD-9040
FRITZ KREISLER: Liebesfreud –Thomas Murray (1929 Skinner/Woolsey Hall, Yale University, New Haven, CT) Gothic G49054
FELIX MENDELSSOHN: Wedding March, from A Midsummer Night's Dream –Luc Antonini (1983 Quoirin/Collegiale Saint Martin, Saint-Rémy-de-Province, France) Sony Masterworks S2K-52560
DUKE ELLINGTON: In a sentimental mood; Prelude to a Kiss –Anders Paulsson, sax; Harry Huff (1976 Åkerman & Lund/Katarina Church, Stockholm, Sweden) LCM CD-117
ALEC WYTON: A Wedding Blessing –Marilyn Keiser (1991 Visser-Rowland/First Presbyterian, Stamford, CT) Pro Organo CD 7025
JOHANNES BRAHMS: Chorale-prelude, Deck thyself with gladness –Carole Terry (1965 Flentrop/Episcopal Cathedral of St. Mark, Seattle, WA) MHS CD-512523
FRANZ LEHRNDORFER: Improvisation on Schlaf, Kindlein, schlaf –Franz Kehrndorfer (1959 Steinmeyer/Hochschule für Musik, Munich, Germany) Calig CD-50415
ARTHUR BLISS: Wedding Fanfare and Fanfore for the Bride –Colin Walsh (1898 Henry Willis/Lincoln Cathedral, England, UK) Priory PRCD379
LEO SOWERBY: A Wedding Processional –William Whitehead (1938 Ernest M. Skinner & Son; 1975 Aeolian-Skinner/National Cathedral, Washington, DC) Resmiranda CD-8004
This program was originally issued as #9523 in June 1995.