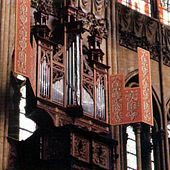 1981 Garnier organ at Metz Cathedral, France
Six 'B's from Britain
You know how it is, one thing leads to another. This week's program is no exception and put itself together quite magically to celebrate the Centenary of English composer Lennox Berkeley. There are works by Berkeley, of course, but also a prelude by Dr. John Bull, a Voluntary or Fugue by Boyce or Burney, a sonata by Bairstow and a heroic march by Brewer. In the end, it's four centuries of keyboard composers creating a melodious miscellany.
Hope you enjoy the works of Six 'B's from Britain.
Listen to the program
Program Broadcast dates:
Links and Resources:
We honor the centenary of the birth of Lennox Berkeley, born May 12, 1903.
Music played in the program
HERBERT BREWER [1865-1928]: Marche Héroïque –Paul Morgan (1891 Henry Willis/Exeter Cathedral, England, UK) Priory PRCD431
JOHN BULL [1562-1628]: Praeludium Dr. Bull; Miserere; Een Kindeken is ons geboren –Etienne Baillot (1981 Garnier/Cathédrale Saint Étienne, Metz, France) K617 K.617003
WILLIAM BOYCE [1710-1779]: Voluntary in D –Jennifer Bate (1839 Allen/St. Everilda Chapel, Everingham, Yorkshire, England, UK) Regis CD-5002
LENNOX BERKELEY [1903-1990] (arranged by Bate): Andantino, Opus 21, number 2b [1945] –Jennifer Bate (1955 Harrison & Harrison/St. James Muswell Hill, London, England, UK) Hyperion LP-66061
LENNOX BERKELEY: Missa Brevis, Opus 57 [1950] –Choir of Clare College, Cambridge, Timothy Brown, conductor; Stephen Farr, organ; Meridian CD-84216
–Bristol Cathedral Choir, Christopher Brayne, conductor; Claire Hobbs (1907 Walker/Bristol Cathedral, England, UK) Priory PRCD386
LENNOX BERKELEY: Three Pieces: Aubade, Aria, Toccata, Opus 72, number 1 –Jennifer Bate (1955 Harrison & Harrison/St. James Muswell Hill, London, England, UK) Hyperion LP-66061
CHARLES BURNEY [1726-1814]: Fugue in f –Jennifer Bate (1764 Snetzler/Dolmetsch Collection) Regis CD-5002
EDWARD BAIRSTOW [1874-1946]: Organ Sonata in E-flat –John Scott (1872 Henry Willis; 1992 Mander/Cathedral of St. Paul, London, England, UK) Priory PRCD401