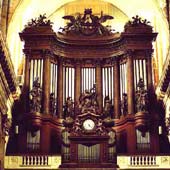 1890 Cavaillé-Coll organ of Saint Sulpice, Paris, France
Te Deum!
It's almost like a peal of bells, and why not, since this week's program is all about praise. The phrase We praise you, oh God. We acknowledge you to be the Lord… has inspired composers through the centuries. Dupré, Attaignant, Buxtehude, and Demessieux, have each created monuments on this text and we'll also listen to a very snappy setting from the French Baroque by Charpentier, as well as chorale versions by Britten and Berlioz.
The celebrations continue through time and traditions, as we shout our praise: Te Deum!
Listen to the program
Program Broadcast dates:
Music played in the program
PIERRE ATTAINGNANT: 3 Te Deum Verses –Marc Baumann (1981 Alfred Kern/Cathédrale Notre Dame, Strasbourg, France) IFO 00 036
MARCEL DUPRÉ: Paraphrase sur le Te Deum –Suzanne Chaisemartin (1862 Cavaillé-Coll/Église Saint-Sulpice, Paris, France) Aeolus AE10221
CHARLES VILLIERS STANFORD: Te Deum in B-flat –Winchester Cathedral Choir, David Hill, conductor; John Scott, conductor; Andrew Lucas (1872 Henry Willis; 1992 Mander/Cathedral of St. Paul, London, England, UK) Hyperion CDA66439
DIETERICH BUXTEHUDE: Te Deum –Harald Vogel (1693 Schnitger/Jacobikirche, Hamburg, Germany) Dabringhaus und Grimm MDG 314 0427
MARC-ANTOINE CHARPENTIER: Te Deum Prelude –Rolf Smedvig, trumpet; Michael Murray (1943; 1953; 1970 Casavant Frères/FUMC, Cleveland, OH) Telarc CD-80341
HECTOR BERLIOZ: Christe rex gloriae and Judex crederis, from Te Deum –Francis Bardot, tenor; Chorus of Paris; Meudon National Music School Orchestra, Christian Gouinguene; Jacques Taddei, organ; Thesis CD-11002