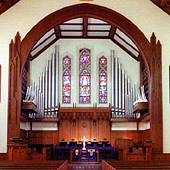 1991 Reuter organ at the University of the Ozarks, AR.
Women's Work
They've come a long way, from motherhood and home life to professions and entrepreneurial adventures. This week's broadcast celebrates the contributions of women as composers for the organ. From modern day talents such as Libby Larsen, Margaret Sandresky and Emma Lou Diemer, to the once neglected pioneering energies of Maria Theresa von Paradies, Gracia Baptista and Fanny Mendelssohn, we'll enjoy a variety of styles and textures including thoughtful chorale-preludes, graceful dances, and vigorous toccatas.
Christa Rakich provides anecdotal introductions and performances recorded at Columbia University Chapel in New York City on Women's Work and the 'better half' of organ music.
Listen to the program
Program Broadcast dates:
Christa Rakich talks about
A Select Bibliography
Organ Music of Women Composers; Colette Schlegel Ripley American Guild of Organists Committee on Educational Resources
Organ and Harpsichord Music by Women Composers: An Annotated Catalog, Compiled by Adel Heinrich Greenwood Press, 1991
Women in Music: An Anthology of Source Readings from the Middle Ages to the Present, Edited by Carol Neuls-Bates Harper & Row, 1986
Feminine Endings: Music, Gender and Sexuality; Susan McClary University of Minnesota Press, 1991
Gender and the Musical Canon; Marcia J. Citron Cambridge University Press, 1993
The Memoirs of Ethel Smyth, Abridged and Introduced by Ronald Crichton Viking Press, 1987
Women Organ Composers from the Middle Ages to the Present: with Performance Suggestions for Selected Works; Lyn Helen Huber, Loewi DMA dissertation Stanford University 1983
International Encyclopedia of Women
Music played in the program
LIBBY LARSEN: Tambourines, from Aspects of Glory –Ji-Yoen Choi (1959 Schlicker; 1996 Dobson/Chapel of the Resurrection, Valparaiso University, Valparaiso, IN) Naxos 8.555367
SISTER GRACIA BAPTISTA: Conditor alme siderum Organ Music by Women Composers before 1800, Vivace Press. –Christa Rakich (1938 Aeolian-Skinner/St. Paul Chapel, Columbia University, New York, NY) Pipedreams Archive recorded July 10, 1996.
MARIA THERESIA von PARADIES (transcribed by Charles Callahan): Sicilienne –Charles Callahan; MorningStar Music Publishers 10-903
FANNY MENDELSSOHN-HENSEL: Prelude in F –Christa Rakich (1932 Kilgen/Church of St. Justin, Hartford, CT) AFKA SK-527
LILI WIERUSZOWSKI: 2 Chorale-preludes: Morgenglanz der Ewigkeit; Nun jauchzet dem Herren, Choralvorspiele von Reger-Schülern Schott ED 7769 –Christa Rakich (1932 Kilgen/Church of St. Justin, Hartford, CT) AFKA SK-527
JOHANNA SENFTER: 2 Chorale-preludes: Vom Himmel hoch; Wer nur den lieben Gott. MARGARET SANDRESKY: Credo, from L'homme armé Organ Mass Organ Music, Volume 1, Wayne Leupold Editions WL 600031 –Christa Rakich (1938 Aeolian-Skinner/St. Paul Chapel, Columbia University, New York, NY) Pipedreams Archive recorded July 10, 1996
JEANNE DEMESSIEUX: Hosanna filio David –Christa Rakich (1932 Kilgen/Church of St. Justin, Hartford, CT) AFKA SK-527
EMMA LOU DIEMER: Psalm 151 –Emma Lou Diemer –Christa Rakich (1991 Reuter/Munger Chapel, University of the Ozarks, Clarksville, AR) RBWCD-013
EMMA LOU DIEMER: All things bright and beautiful. ETHEL SMYTH: O Traurigkeit, O Herzeleid –Christa Rakich (1938 Aeolian-Skinner/St. Paul Chapel, Columbia University, New York, NY) Pipedreams Archive recorded July 10, 1996
Ms. Rakich performed on the 1938; 1962 Aeolian-Skinner organ at the chapel of Columbia University, New York, NY. Pipedreams Archive recorded July 10, 1996