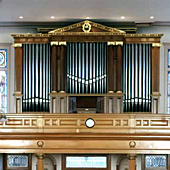 1996 Bond organ at Holy Rosary RCC
Debuts and Dedications
Bold and beautiful sounds from recently inaugurated American-built instruments will engage our ears on this week's show. Robert Bates plays at Holy Rosary Church in Portland, and John Obetz visits with the Benedictines at Conception Abbey in Missouri. You'll also hear instruments at West Market Street Methodist in Greensboro, North Carolina, Northridge Presbyterian in Dallas, Texas, and the Community Church in Glenview, Illinois.
We're on the road again with a cross-country sampler of recent American-built instruments, proving that this time-honored art is alive and well as practiced in our United States. Enter into the festivities and concert performances in a series of Debuts and Dedications.
Listen to the program
Program Broadcast dates:
Music played in the program
JOHANNES BRAHMS: Prelude & Fugue in a; 2 Chorale-preludes, Opus 122, numbers 9 & 10 Herzlich tut mich verlangen –Robert Bates (1996 Bond/Holy Rosary RCC, Portland, OR) Pro Organo CD 7060
J.S. BACH: Prelude in E-flat, S. 552a. JEHAN ALAIN: Postlude for the Office of Compline –John Obetz (1999 Bigelow/Basilica of the Immaculate Conception, Conception, MO) Conception Abbey CD-001
HERBERT HOWELLS: Rhapsody in c#, Opus 17, number 3 –Marcia van Oyen (1999 Buzard/Glenview Community Church, Glenview, IL) Raven OAR-570
JAMES M. BATES: All things bright and beautiful, premiere MARGARET SANDRESKY: Moravian Chorale-prelude, Jesus makes my heart rejoice. CHARLES VILLIERS STANFORD: Hymn, When in our music God is glorified –Susan Bates (1999 Dobson-Rosales/West Market Street UMC, Greensboro, NC) recorded October 17, 1999
MARCO ENRICO BOSSI: Giga. MAX REGER: Chorale-Fantasy, Wie schön leuchtet der Mogenstern, Opus 40, number 1. MORITZ STANISLAWSKI: Etude in F –Ken Cowan (2001 Nichols & Simpson/Northridge Presbyterian, Dallas, TX) recorded September 14, 2001
All five of these distinctly different instruments were created by member firms of APOBA, the Associated Pipe Organ Builders of America.