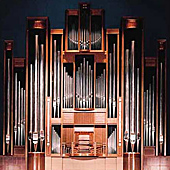 1992 C.B. Fisk Organ at the Meyerson Symphony Center
Spanish Music in the New World
On this Pipedreams program we cover 500 years of Iberian repertoire. From the 16th and 17th century antiquities of Antonio de Cabezon and Juan Cabanilles to the modern Easter outbursts of Jose Antonio de Donostia, we explore the seldom-played music of Spanish composers on Spanish-style instruments here in the United States.
Trumpet fanfares from the Old Country take on a new aura played on stylish instruments in North Carolina, California, Ohio and Texas. From Cabezon to Donostia, we celebrate 500 years of Spanish Music in the New World, extraordinary sounds this week on Pipedreams.
Listen to the program
Program Broadcast dates:
Music played in the program
ANONYMOUS @1700: Entrada de clarines. ANTOIO de CABEZON: Tiento I. JUAN CABANILLES: Xácara –Robert Parkins (1976 Flentrop/Duke University Chapel, Durham, NC) Naxos 8.550705
JUAN CABANILLES: Tiento de batalla de octavo tono –John Butt (1988 Greg Harrold Spanish Style organ [Opus 11]/Pacific Lutheran Theological Seminary, Berkeley, CA) Harmonia Mundi CD-907047
SEBASTIAN AGUILERA de HEREDIA: Salve de lleno de primero tono. JOSÉ LIDÓN: 3 Pieces: Offertorio; Elevacion; Allegro. BRUNA: Letanias de la Virgen –Montserrat Torrent (1991 Collon/St. Francis Chapel, John Carroll University, Cleveland, OH) recorded in concert, September 8, 1991
JOSÉ LIDÓN: Preludio y fuga sobre el 'Pange' Lingua espanol. JOSÉ ANTONIO de DONOSTIA: 2 Pieces: Dulcelignum; Exsultemus et inetemur in Domino. SESSÉ: Preludio, Andante y 'Ave Maris Stella' –Linton Powell (1992 C.B. Fisk/Meyerson Symphony Center, Dallas, TX) recorded in concert, October 4, 1992
This program was originally issued as #9403 in January 1994.