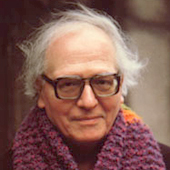 Olivier Messiaen
Attuned to Messiaen
Spiritual mystery and intellectual clarity may seem incompatible concepts, but for composer Olivier Messiaen, probing them was his life and his art. On our next Pipedreams program, we explore his music that many consider to be the most important written for the organ since Bach: his vivid tonal visions of the Eternal Church, his aural pageants descriptive of Christmas scenes, Pentecostal zeal, and Trinitarian principals. The composer himself, eight of his students and disciples, plus one determined and talented youth who is playing the entire cycle in 9-hour marathon concerts, honor his memory ten years after his death.
Pentecostal Tongues and Serene Alleluias sound in praise of a higher power while a remarkable man sees colors in sound and reveals his profound faith in art. Enter a surprisingly satisfying world. We are Attuned to Messiaen…this week on Pipedreams.
Listen to the program
1 hr 28 min
Program Broadcast dates:
Music played in the program
OLIVIER MESSIAEN: Diptyque [1929] –Dame Gillian Weir (1929; 1993 Frobenius/Århus Domkirke [Århus Cathedral], Denmark) Collins Classics CD-70312
OLIVIER MESSIAEN: Apparition de l'Eglise Eternelle [1931] –Louis Thiry (1959 Metzler/St. Peter Cathedral, Geneva, Switzerland) Calliope CD-9928
OLIVIER MESSIAEN: Serene Alleluias of a Soul Desiring Heaven, from L'Ascension [1934] –Naji Hakim (1868 Cavaillé-Coll/La Trinité, Paris, France) Jade CD-29491
OLIVIER MESSIAEN: The Tongues of Fire, from Messe de la Pentecote [1950] –Erik Boström (1949 Marcussen/Oscarskyrkan, Stockholm, Sweden) Proprius PRCD-9010
OLIVIER MESSIAEN: Piece en Trio, Number 1 and The Eyes in the Wheels, from Livre d'Orgue [1951] –Rudolf Innig (1994 Fischer & Krämer/St. Bonifatius Church, Lingen, Germany) Dabringhaus und Grimm MDG 317 0622
OLIVIER MESSIAEN: God is Simple, from Meditations sur le Mystere de la Sainte Trinité [1969] –Charles Tompkins (1984 Casavant Frères/First Baptist, Greenville, SC) Pro Organo CD 7136
OLIVIER MESSIAEN: The Raised and the Light of Life, from Livre du Saint Sacrement [1986] –Almut Rössler (1981 Eisenbarth/Dom St. Stephan, Passau, Germany) Motette CD MOT 11061
OLIVIER MESSIAEN: Le Banquet Celeste [1926]; Force and Agility of the Glorified Bodies, from Les Corps Glorieux [1939] –Paul Jacobs (1964 Möller; 2001 Goulding & Wood/National Shrine of the Immaculate Conception, Washington, DC) Pipedreams Archive recorded February 22, 2002
OLIVIER MESSIAEN: God Among Us, from La Nativité du Seigneur [1935] –Olivier Messiaen (1868 Cavaillé-Coll/La Trinité, Paris, France) EMI Classics CDC 67400
OLIVIER MESSIAEN: God Among Us, from La Nativité du Seigneur [1935] –Jennifer Bate (1868 Cavaillé-Coll/La Trinité, Paris, France) Jade Editions CD 29497
No composer since Bach more completely merged his artistic and spiritual life in composed organ music than did Olivier Messiaen, 1908; 1992. Our performances feature numerous present-day Messiaen advocates, several former pupils and disciples, and the composer himself.
In commemoration this year of the 10th anniversary of Messiaen's death, the superb young American organist Paul Jacobs is playing the complete works six times in marathon recitals in various cities around the United States. The final two performances take place on May 9 in Minneapolis, MN at the Basilica of Saint Mary, from 1 p.m. to 10 p.m. and June 14/15 in Seattle, WA at the Cathedral of Saint James, 7:45 p.m. to midnight both nights.