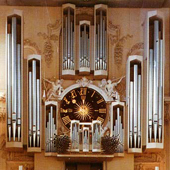 1969 Klais organ at Saint Kilian's Cathedral, Würzburg, Germany
King Widor
He was the big cheese in the French organ world of one hundred years ago, and on our next Pipedreams broadcast we celebrate his legacy with a composite performance of his most famous work. Although he wrote 10 solo organ symphonies, his Number V has always been the most popular, because of its famous concluding Toccata.
We'll hear the entire work, each movement played by a different soloist on a different instrument, plus another symphony, for organ and orchestra, a rare gem presented in concert at the American guild of Organists Convention in Atlanta. Hear the lavish and lovely compositions of Charles-Marie Widor a toast to King Widor this week on Pipedreams.
Listen to the program
Program Broadcast dates:
Music played in the program
CHARLES-MARIE WIDOR: Symphony Number 5 in F, Opus 42, number 1:
1st movement, Allegro vivace –Frederick Hohman (1954; 1990 Schantz/Basilica of the Sacred Heart, Newark, NJ) Pro Organo CD 7021
2nd movement, Allegro cantabile –Hans Musch (1969 Klais/St. Kilian Cathedral, Würzburg, Germany) Christophorus CD-74606
3rd movement, Andantino quasi allegretto –Kare Nordstoga (1885 Cavaillé-Coll/Abbaye aux Hommes [Saint-Etienne], Caen, France) Simax CD-1073
4th movement, Adagio –François-Henri Houbart (1845 Cavaillé-Coll/Église de la Madeleine, Paris, France) Pierre Verany CD-786033
5th movement, Toccata –Daniel Chorzempa (1888 Cavaillé-Coll/Basilique Saint-Sernin, Toulouse, France) Philips 410 054
CHARLES-MARIE WIDOR (arranged by van Vliet): Romance, Opus 34, originally for flute and orchestra –Herman van Vliet (1883 Bätz/Museum Speelklok, Utrecht, The Netherlands) Festivo FECD-108
CHARLES-MARIE WIDOR: Sinfonia Sacre, Opus 81 –Atlanta Symphony members, George Hanson, conductor; Jonathan Biggers (1987 Petty-Madden/Trinity Presbyterian, Atlanta, GA) Pipedreams Archive recorded June 30, 1992 at an American Guild of Organists national convention.
Filler –CHARLES-MARIE WIDOR: Toccata, from Symphony Number 5 –Daniel Roth (1862 Cavaillé-Coll/Église Saint-Sulpice, Paris, France) Motette CD MOT 11141
This program was originally issued as #9505 in January 1995.