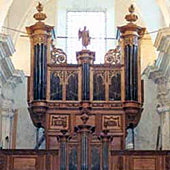 1714 Boizard organ at Saint Michel Abbey, Saint Michel en Thiérache, France
He is Risen!
Choirs and instruments together celebrate the Easter Festival on our next Pipedreams program, a joyous collection of music for the Spring Awakening. Gerre Hancock leads the singers from Saint Thomas Church in New York City, Davitt Morony explores early 17th century French works, while David Fuller and friends present an entire organ symphony on an Easter theme.
Tendrils of tone waft heavenward as we rejoice in the reawakening energy of spring with works by Widor and Bach, plus contemporary improvisations and fantasies with a new vision. Verses and variations, fantasies and festivity, everything from Gregorian chants to electric guitars blend their songs in an uplifting surge He is Risen a resurrection rouser, this week on Pipedreams.
Listen to the program
Program Broadcast dates:
Music played in the program
CHARLES-MARIE WIDOR: Symphony Number 10, Opus 73, Romane
1st movement, Moderato –David Fuller (1990 C.B. Fisk/Slee Hall, SUNY-Buffalo, Buffalo, NY) Loft LRCD-1014
2nd movement, Choral –Daniel Chorzempa (1888 Cavaillé-Coll/Basilique Saint-Sernin, Toulouse, France) Philips 410 054
3rd movement, Cantilene –Herman van Vliet (1888 Cavaillé-Coll/Basilique Saint-Sernin, Toulouse, France) Festivo FECD-147/148
4th movement, Final –Daniel Roth (1862 Cavaillé-Coll/Église Saint-Sulpice, Paris, France) Motette CD MOT 11141
JOACHIM NEANDER: He is Risen! –Choir of Saint Thomas Church, Gerre Hancock, conductor (1956 Aeolian-Skinner/St. Thomas Episcopal, New York, NY) Koch CD-7441
LOUIS COUPERIN: 4 Easter Pieces: Invitatoire pour le Jour de Pasques; Tristes erant apostoli; Jesu salvator saeculi; Invitatoire de la Feste Dieu –Davitt Moroney (1714 Boizard/Abbey Church, Saint Michel en Thiérache, France) Temperaments CD-316001/02/03
KARL SCHARNWEBER: O Sacred Head –Thomas Klemm, sax; Wolfgang Schmiedt, guitar; Karl Scharnweber (1963 Marcussen/St. Peter Cathedral, Schleswig, Germany) Nabel 4650
LINDEMAN: Easter Morning/Pskemorgen –Povl Dissing, voice; Knut Reiersrud, guitar; Iver Kleive (1965 Marcussen/Odense Domkirke, Denmark) Kirkelig Kulturverksted FXCD229
SAMUEL SCHEIDT/J.S. BACH/GERALD NEAR: Easter Chorale, Christ ist erstanden –Memphis Chamber Choir and Memphis Boychoir, John Ayer (1990 Nichols & Simpson/Christ Episcopal, Little Rock, AR) Pro Organo CD 7119
BRIAN SCHOBER: Verses on the Easter Chant Victimae Paschali –Brian Schober (1996 Austin/Heavenly Rest Episcopal, New York, NY) Ethereal CD-125
FRÉDÉRIC BLANC: Easter Improvisation-Sortie, Christus Vincit –Frédéric Blanc (1888 Cavaillé-Coll/Basilique Saint-Sernin, Toulouse, France) Motette CD MOT 11451