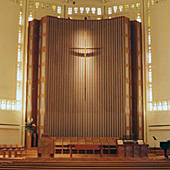 1967 Schlicker organ at Plymouth Congregation Church, Seattle
Rising Stars
It's about knowing both sides, when to hold back in thoughtfulness and when to rush impetuously forward, to know the heart of a piece beyond just the muscle. On our next Pipedreams, eight very aware young talents, recent award winners in a national competition, show us their stuff and tell us their dreams. The names of Michael Costello, Jeeyen Son, Svetlana Fiahkretdinova, Cara Dye, Todd Fickley, Tom Trenney, Grace Renaud, and Frederick Teardo may still be new to you but among them likely are some of the heroes of tomorrow.
Whether in sweet serenity or soulful soaring, eight twenty-something young artists prove that the future's been well-provided for by the talents they are husbanding today. Bask in their glow, Rising Stars, this week on Pipedreams.
Listen to the program
Program Broadcast dates:
Featured Organ:
Links and Resources:
Read more about the musicians featured on this week's program.
Music played in the program
J.S. BACH: Canonic Variations on Vom Himmel hoch, S. 769 –Todd Fickley
J.S. BACH: Fugue in a, S. 543. DAN LOCKLAIR: Ayre for the Dance –Michael Costello
JEAN GUILLOU: Toccata –Svetlana Fiahkretdinova
J.S. BACH: Trio Sonata Number 4 in e, S. 528 –Cara Dye
MARGARET SANDRESKY: Jubilate Deo. LOUIS VIERNE: Carillon de Longpont, from Pieces in Free Style, Opus 31 –Grace Renaud
DIETERICH BUXTEHUDE: Praeludium in d –Frederick Teardo
PAUL HINDEMITH: Ruhig bewegt, from Sonata Number 1 –Jeeyen Son
DAN LOCKLAIR: The Peace Shall be Exchanged, from Rubrics. CHARLES IVES: Variations on America –Tom Trenney
These eight performers, all in their early twenties, were winners of the American Guild of Organist's Regional Competition for Young Organists. The played the 1967 Schlicker organ in concert at Plymouth Congregational Church, Seattle, recorded July 2, 2000. They'll chat with host Michael Barone about the genesis of their organ involvement.