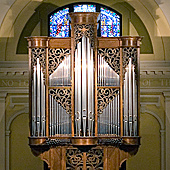 1986 Kney organ at Saint Thomas Aquinas Chapel, University of Saint Thomas, Saint Paul, Minnesota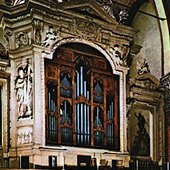 1596 Malamini organ at the Basilica di San Petronio [Basilica of Saint Petronio], Bologna, Italy
Italian Evolution
It had to start somewhere, even when it comes to new styles of writing for the keyboard. On our next Pipedreams broadcast, we'll trace the art of the organ from the sixteenth to the twentieth century, from Antegnati to Ravanello, with recordings on some of the earliest playable pipe organs, solos, duets, saucy sonatas, romantic tone poems, and dramatic concertos.
Influenced by the world at large, by court, church, theatre, and concert hall, these pieces by Gabrieli and Galuppi, Bergamo and Bossi, and Casella document a remarkable and colorful artistic progression an Italian Evolution, this week on Pipedreams.
Listen to the program
Program Broadcast dates:
•November 11, 1996 as Show #9646
•August 13, 2001 as Show #0133
Music played in the program
GIROLAMO FRESCOBALDI: Toccata Number 5, Book 2 –Liuwe Tamminga (1596 Malamini/Basilica of San Petronio, Bologna, Italy) Radio Nederland CD-8903
ANTEGNATI: Ricercar del Duodecimo Tono. TARQUINIO MERULA: Capriccio Cromatica –Stef Tuinstra (1556 Antegnati/San Maurizio, Milan, Italy) Radio Nederland CD-8905
GIOVANNI GABRIELI: Ricercare on the 7th and 8th Tones –Roberto Micconi (1972 Tamburini/San Marco Cathedral, Venice, Italy) Motette CD MOT 10561
FERDINANDO PELLEGRINI: Organ Concerto in G, Opus 8, number 4, 1st movement –Rudolf Ewerhart (Parish Church, Altenberg, Germany) FSM CD-92201
PADRE DAVIDE da BERGAMO: Sinfonia in D –Jos van Immerseel (1825 Serassi/St. Maria de Campagna, Piacenza, Italy) Radio Nederland CD-8905
BALDASSARE GALUPPI: Sonata in d; Largo in F. LUCCHESI: Sonata Number 2 in F –Roberto Micconi (1790 Callido/San Zaccaria Church, Venice, Italy); (1856 Bazzani/St. Maria del Rosario, Venice, Italy) Motette CD MOT 10561
MARCO ENRICO BOSSI: Chant du soir, Opus 92, number 1; Scherzo in g, Opus 49, number 2.
ORESTE RAVANELLO: Theme & Variations in b –Roberto Micconi (1987 Kney/St. Thomas Aquinas Chapel, University of St. Thomas, Saint Paul, MN) Pipedreams Archive recorded November 30, 1987
ALFREDO CASELLA: Sinfonia, from Concerto Romano [1926] –Austrian Radio Symphony, Leif Segerstam, conductor; Martin Haselböck (1976 Rieger/Augustinerkirche, Vienna, Austria) Koch-Schwann CD-317002