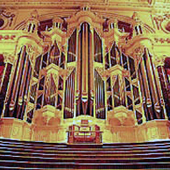 1890 Hill organ at Sydney Town Hall, Sydney, Australia
March Forth!
The impulse is inexorable, and it's not just the organist's feet that want to move out. Our next Pipedreams program celebrates the ceremonial and the aerobic opportunities of music in the manner of a march. Some pieces have the expected pomp and circumstance, but others are majestic, or joyous, or somber, or even side-splittingly funny. Siamese children, archers, marionettes, three kings, and even penguins get into the act, as we step right out according to rank and file.
Whether stepping out to a little number by Bach, or a grand romp by Sousa or Elgar, we'll get our legs and ears in shape and take advantage of an energy which makes you want to move. Ready? Start with your left left-right organ music for a parade. We March Forth!, this week on Pipedreams.
Listen to the program
Program Broadcast dates:
Music played in the program
ALFRED HOLLINS: Triumphal March –Willibald Guggenmos (1890 Hill/Town Hall, Sydney, Australia) Motette CD MOT 12591
J.S. BACH: March, Musette & March in D, from Anna Magdalena Notebook –E. Power Biggs (1958 Flentrop/Adolphus Busch Hall, Harvard University, Cambridge, MA) CBS Masterworks MK 30539
KEITH CHAPMAN: Fanfare & Procession (1974 Ruffatti/Coral Ridge Presbyterian, Fort Lauderdale, FL) Vantage CD-6309
HENRY PURCELL: Entrée & March in C –Gerald Webster, trumpet; Paul Klemme (1995 Reuter/Heinz Memorial Chapel, University of Pittsburgh, PA) Pro Organo CD 7057
SIR EDWARD ELGAR: Pomp & Circumstance March Number 3 in c –Mark Blatchly (1986 Walker/Lancing College Chapel, England, UK) Priory PRCD521
JOHANN STRAUSS I: Radetzky March –Wayne Marshall (1894 Hill; 1982 Harrison & Harrison/Peterborough Cathedral, England, UK) Virgin Classics 61703
PETR EBEN: Marciale, from Momenti d'organo –Ludger Lohmann (Saint Moritz Church, Rottenburg, Germany) Signum 7900
NIGEL OGDEN: Penguin's Playtime –Gabriel Dessauer (1985 Seifert; Mayer/St. Bonifatius Church, Wiesbaden, Germany) Schoko/Musik CD-1994
RICHARD RODGERS: March of the Siamese Children, from The King and I –Lyn Larsen (1926 Wurlitzer/Century II Convention Center, Wichita, KS) Pro Arte CD-281
FREDERIC CURZON: March of the Bowmen, from Robin Hood Suite –Simon Gledhill (1928 Kimball/Dickinson High School Auditorium, Wilmington, DE) DTOS CD-366
GIUSEPPE GHERARDESCHI: Sonata, In the Manner of a Military Band Playing a March –Luigi Ferdinando Tagliavini (1899 Tronci/Church of Saint Michael, Corsanico, Italy) Foné CD-93F22
LEO SOWERBY: A Joyous March –Peter Stoltzfus Berton (1935 Aeolian-Skinner/Trinity Episcopal, New Haven, CT) JAV CD-101
AUGUSTIN BARIÉ: Marche, from Trois Pieces, Opus 7 –Peter Wright (1897 Lewis/Southwark Cathedral, England, UK) Priory PRCD406
CHARLES GOUNOD: Funeral March of a Marionette –Patrick Wedd (1927 Wurlitzer/Orpheum Theatre, Vancouver, BC, Canada) CBC CD-1019
THÉODORE DUBOIS: March of the Three Kings –Hans-Dieter Karras (1845 Cavaillé-Coll/Église de la Madeleine, Paris, France) Prospect CD-401793
JOHN PHILIP SOUSA: The Stars and Stripes Forever –Ken Cowan (1926 Skinner/Jefferson Avenue Presbyterian, Detroit, MI) JAV CD-118
HERBERT BREWER Marche Héroïque –David Briggs (1882 Lewis/St. John the Evangelist, Upper Norwood, London, England, UK) Priory PRCD680
Given that most national Pipedreams broadcasts occur on Sunday, and considering the date upon which this program is, or was, likely to be heard, we just couldn't help ourselves.