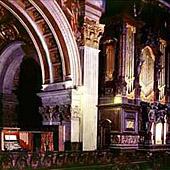 Willis Organ of Saint Paul's Cathedral, London
England's Glory
The magnificent Organ Sonata by Sir Edward Elgar is but one of the highlights of this week's Pipedreams broadcast. In it, four players, two in London and two in New England, will revel in an almost orchestral wash of color. Joseph Payne plays from the Mulliner Book, Malcolm Archer takes us to Lancaster Town Hall, Robert Wolley performs 16th century music on an instrument equally old, and Colin Walsh has a blast at Lincoln Cathedral. Experience the lush sounds that characterize organ music from jolly old England.
Beyond Bach and Franck and Widor, there's a wonderful realm of experience awaiting us in the works of British composers. From the Mulliner Book and early pieces by Orlando Gibbons and Dr. John Bull, through the proud pages of Hubert Parry and Charles Stanford, to the entire First Sonata by Edward Elgar, we prove it's not a desert island as regards its organ music. Come and celebrate England's Glory, this week on Pipedreams.
Listen to the program
Program Broadcast dates:
Music played in the program
GORDON JACOB: Festal Flourish –Colin Walsh (1898 Henry Willis/Lincoln Cathedral, England, UK) Priory PRCD379
SIR HUBERT PARRY: Chorale-prelude, Hanover –Robert Benjamin Dobey (1930 E.M. Skinner/Girard College Chapel, Philadelphia, PA) Pro Organo CD 7059
ORLANDO GIBBONS: 2 Fantasias in d: 1 & 4 –Robert Woolley (1680 Dallam/église de Ploujean, Brittany, France) Chandos CD-0559
CHARLES WOOD: Prelude on Saint Mary's.CHARLES VILLIERS STANFORD: Prelude in the Form of a Toccata, Opus 88, number 3 –Jennifer Bate (1955 Harrison & Harrison/St. James Muswell Hill, London, England, UK) & (1919 Henry Willis & Sons/Brangwyn Hall, Swansea, Wales, UK) ASV CD-6222
NIGEL OGDEN: England's Glory –Malcolm Archer (1909 Norman & Beard/Town Hall. Lancaster, England, UK) Priory PRCD400
CHRISTOPHER TYE: When that the fifty day was come.
WILLIAM BLITHEMAN: Christe redemptor omnium –Joseph Payne (1890 Hook/United Church, Stonington, CT) Naxos 8.550719
JOHN BULL: 3 Pieces: Te lucis ante terminum; In nomine; Fantasia –Etienne Baillot (1981 Garnier/Cathédrale Saint Étienne, Metz, France) K617 K.617003
SIR EDWARD ELGAR: Sonata Number 1 in G, Opus 28, 1st movement –Jennifer Bate (1871 Henry Willis; 1924; 1933 Harrison & Harrison; 2004 Mander/Royal Albert Hall, London, England, UK) ASV CD-6160
SIR EDWARD ELGAR: Sonata Number 1, 2nd movement –Thomas Murray (1863 E. & G.G. Hook/Immaculate Conception RCC, Boston, MA) AFKA SK-507
SIR EDWARD ELGAR: Sonata Number 1, 3rd movement –Thomas Murray (1929 Skinner/Woolsey Hall, Yale University, New Haven, CT) Gothic G49076
SIR EDWARD ELGAR: Sonata Number 1, 4th movement –John Scott (1872 Henry Willis; 1992 Mander/Cathedral of St. Paul, London, England, UK) Priory PRCD401