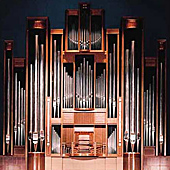 1992 C.B. Fisk organ, at Meyerson Symphony Center, Dallas Texas
The Dallas International Organ Competition 2000 (Part 2)
The nine competitors have been thinned to three with the ultimate challenge just on the horizon. On our next Pipedreams broadcast, we take you to the Meyerson Symphony Center in Dallas where three young artists vie for the gold prizes on a Texas scale totaling over $50,000 in cash and awards! Bach prevails in the company of Brahms, Bill Bolcom and Max Reger, while Gunther Rost, Bradley Hunter Welch and James Diaz pull out all the stops in this most prestigious of American contests for young masters of the king of instruments. Tune in and hear the exciting conclusion of the finals of the Dallas International Organ Competition 2000, this week on Pipedreams.
Listen to the program
Program Broadcast dates:
Featured Organ:
Links and Resources:
Music played in the program
J.S. BACH: Prelude and Fugue in D, S. 532. MAX REGER: Fantasy in d, Opus 135b –Martin Rost - 2nd Prize, $10,000
J.S. BACH: Prelude and Fugue in a, S. 543. J.S. BACH: Chorale-prelude, O Lamm Gottes, unschuldig, S. 656. WILLIAM BOLCOM: Gospel Prelude Number 12: O Zion Haste-How Firm a Foundation –Bradley Hunter Welch - 3rd Prize, $5,000 & Audience Prize, $5,000
JOHANNES BRAHMS: Fugue in a-flat. J.S. BACH: Passacaglia & Fugue in c, S. 582 –James Diaz - 1st Prize, $30,000
Performances were recorded March 16-21, 2000, and feature the Herman W. and Amelia H. Lay Family Concert Organ, a four-manual mechanical-action instrument by C.B. Fisk, Inc. of Gloucester, MA, in the Eugene McDermott Concert Hall of the Meyerson Symphony Center.