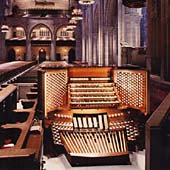 1953 Aeolian-Skinner organ at Riverside Church in New York, NY
The Fox Phenomenon
A celebration and remembrance of that most charismatic and controversial of 20th century American virtuosos, Virgil Fox [1912-1980] with comments from Fox and long-time friends and associates Ted Alan Worth and Lawrence Schreiber, plus recordings made by Fox at the Riverside Church, the Filmore East Auditorium in New York City, Philharmonic Hall at Lincoln Center, and the Garden Grove Church in California. This program was produced in cooperation with Dan Cronenwett, Stephen Carlson, and public radio station KBYU-FM, Provo, Utah.
Listen to the program
1 hr 28 Min
For the convenience of those of you with mobile devices, now you can listen to our PIPEDREAMS audio at http://www.yourclassical.org!
Program Broadcast dates:
Links and Resources:
On Sunday, October 8, an all-star roster of recitalists will present a Virgil Fox Memorial Concert at Riverside Church in New York City, commemorating the 20th anniversary of Fox's death on October 25, 1980 at the age of 68. Additional concerts at other venues are scheduled for later in the month.
Other Related Web Sites:
Virgil Fox recordings available via the Organ Historical Society Catalog.
Music played in the program
J.S. BACH: Toccata & Fugue in C, S. 564 –Virgil Fox (1962 Aeolian-Skinner; 1977 Ruffatti/Crystal Cathedral, Garden Grove, CA) Laserlight CD-15313
RALPH VAUGHAN WILLIAMS: Fantasia on The Old Hundredth –Virgil Fox (1953 Aeolian-Skinner/Riverside, New York, NY) EMI Classics CDC 65913
CLAUDE DEBUSSY: Clair de lune, from Suite Bergamasque –Virgil Fox (1953 Aeolian-Skinner/Riverside, New York, NY) EMI Classics CDC 66386
CÉSAR FRANCK: Finale, from Grande Piece Symphonique –Virgil Fox (1962 Aeolian-Skinner/Philharmonic Hall, Lincoln Center, New York, NY) Westminster WGS-8107
J.S. BACH: Jesu, joy of man's desiring, from Cantata Number 147 –Virgil Fox (1953 Aeolian-Skinner/Riverside, New York, NY) BMG/RCA CD-61251
J.S. BACH: Toccata in d, S. 565, fragment; Vivace, from Trio Sonata Number 6 in G, S. 530 –Virgil Fox (1970 Rodgers electronic/Fillmore East, New York, NY) MCA CD-9827
J.S. BACH (arranged by Virgil Fox): Come, sweet death, 2nd verse only –Virgil Fox (1911 Wanamaker/Grand Court, Macy's Center City, Philadelphia, PA) Bainbridge CD-2501
ROBERT HEBBLE (arranged): I wonder as I wonder, fragment –Virgil Fox (1965 Möller/St. Paul the Apostle RCC, New York, NY) Bainbridge CD-2505
MAURICE DURUFLÉ: Suite, Opus 5 –Virgil Fox (1953 Aeolian-Skinner/Riverside, New York, NY) EMI Classics CDC 66386
Filler –J.S. BACH: Now thank we all our God –Virgil Fox (1953 Aeolian-Skinner/Riverside, New York, NY) RCA 7736