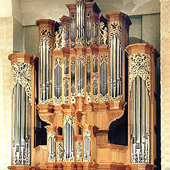 1998 Fritts organ at Lagerquist Hall, Pacific Lutheran University, Tacoma, WA
The Fritts Organ at Pacific Lutheran University
On this week's Pipedreams broadcast we feature a splendid instrument recently inaugurated in Tacoma, Washington. A musical college kid with high ideals, but more adept in a woodworking shop than the practice studio, Paul Fritts makes music by connecting one component to another. We'll listen to the result - his magnum opus built at the new concert hall on the campus of his alma mater. Resident artist David Dahl and guest recitalist Craig Cramer play the old masters on the handiwork of a young one - a program of Bach and Schumann, Messiaen and Cindy McTee.
Listen to the program
Program Broadcast dates:
Featured Organ:
A gift of Gottfried and Mary Fuchs, this 54-stop mechanical-action instrument stands in a balcony overlooking the performing stage of the Lagerquist Concert Hall in PLU's new Mary Baker Russell Music Center. The shop of organbuilder Paul Fritts, a PLU graduate, is nearby in Tacoma. These performances were taped at the organ's dedication and during programs presented as part of the symposium The Organ in the New Millennium. Recordings were provided by Loft Recordings of Seattle.
Links and Resources:
Music played in the program
DIETERICH BUXTEHUDE: Toccata in F. JOHANN LUDWIG KREBS: 2 Chorale-preludes: If you allow but God to guide you; From heaven above. GEORG FRIEDRICH KAUFFMANN: Chorale-prelude, A mighty fortress. HYMN: All creatures of our god and king. J.S. BACH: Chorale-prelude, Have mercy on me, O Lord –David Dahl; recorded November 8, 1998
J.S. BACH: Prelude & Fugue in C, S. 531 –Craig Cramer; recorded April 10, 1999
CINDY McTEE: Agnus Dei [1998] ROBERT SCHUMANN: Fugue Number 1 on B-A-C-H, Opus 60 –David Dahl; recorded April 8, 1999
J.S. BACH: Chorale-prelude, Wir Christenleut, S. 1090 –Craig Cramer; recorded April 10, 1999
OLIVIER MESSIAEN: Communion, Birds and Water Springs from Pentecost Mass –David Dahl; recorded November 8, 1998
J.S. BACH: Fantasy & Fugue in g, S. 542, with an interjected Trio in G, S. 1027a –Craig Cramer; recorded April 10, 1999