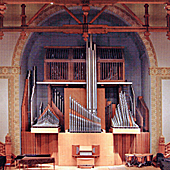 1950 Holtkamp organ at Crouse College, Syracuse, New York, New York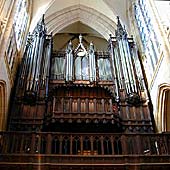 1859 Cavaillé-Coll organ at the Basilique Sainte-Clotilde, Paris, France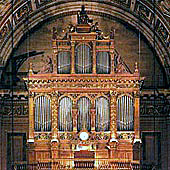 1845 Cavaillé-Coll organ at La Madeleine, Paris, France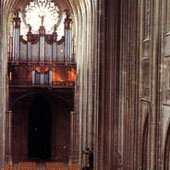 1880 Cavaillé-Coll organ at Holy Cross Cathedral, Orleans, France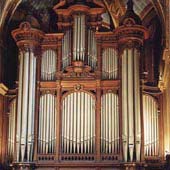 1880 Cavaillé-Coll organ at Saint Francis de Sales, Lyon, France
Lets Be Franck
A journey of enhanced perception, guided by Rollin Smith, Towards an Authentic Interpretation of the Organ works of Cesar Franck, with notable and historic examples.
Listen to the program
1 hr 28 min
Program Broadcast dates:
Music played in the program
CÉSAR FRANCK: Piece heroique [1878] –Jeanne Demessieux (1845 Cavaillé-Coll/Église de la Madeleine, Paris, France) London/Decca LP STS-15103
CÉSAR FRANCK: Pastorale, Opus 19 –Marie-Claire Alain (1880 Cavaillé-Coll/Église Saint-François-de-Sales, Lyon, France) Erato ECD-88110
CÉSAR FRANCK: Choral Number 3 in a –Charles Tournemire [recorded in 1930] (1859 Cavaillé-Coll/Basilique Sainte-Clotilde, Paris, France) Pearl LP OPAL-811
CÉSAR FRANCK: Choral Number 2 in b –ARTHUR POISTER (1950 Holtkamp/Setnor Auditorium, Crouse College, Syracuse, NY) Westminster LP WST-14131
CÉSAR FRANCK: Cantabile [1878] –Wolfgang Rübsam (1880 Cavaillé-Coll/Cathédrale Sainte-Croix, Orleans, France) Deutsche Grammophon LP 2741 024
CÉSAR FRANCK: Final in B-flat, Opus 21 –Rollin Smith (1981 Petty-Madden/Trinity Cathedral, Trenton, NJ) Repertoire Recording Society LP-22/24
Rollin Smith's book, Toward an Authentic Interpretation, and its supplement, Playing the Organ Works of Franck, are published by Pendragon Press. His own recording of the complete Franck works is available, in LP format only, from Repertoire Recording Society, 313 Fulton Street, Westbury, NY 11590.
This program was originally issued as #8847 in November 1988.