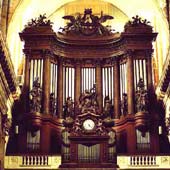 1862 Cavaillé-Coll organ at Église Saint-Sulpice, Paris, France
The Grand Organ of Saint-Sulpice
…completed in 1862 as the largest work of the famous builder Aristide Cavaille-Coll, and immortalized by Widor and Dupre, this noteworthy Parisian instrument received a thorough historic restoration which was completed last year. These performances celebrate its official re-inauguration, and feature works by present and former Saint- Sulpice musicians (r. 10/18/91).
1 hr 28 min
Program Broadcast dates:
Links and Resources:
Music played in the program
NIVERS: Plein jeu.
CLERAMBAULT: Basse et Desus de Trompette.
COUPERIN: Tierce en taille.
CLERAMBAULT: Caprice sur les grands jeux.
DUPRE: Magnificat Versets, Opus 18, with choir
GRUNENWALD: 2 Pieces: La Melodie Interieure, Allegresse
BACH: Prelude & Fugue in D, S. 532
DURUFLE: sanctus, from Requiem, Opus 9
BACH: Chorale-prelude, Aus tiefer Not, S. 686
ROTH: Improvisation on O sacred head now wounded.
WIDOR: Easter Anthem, surrexit a mortuis.
LEFEBURE-WELY: Noel
Performers include organists Daniel Roth and Sophie-Veronique Choplin, and a Festival Choir of Le Centre d'Art Polyphonique de Paris led by Michel Piquema1. We are indebted to Daniel Roth and the French National Radio System, ORTF, for providing these materials. Roth's recordings of works by Cesar Franck, featuring the refurbished St. Sulpice organ among others are available on the Motette label, CDs 11138, 11139, 11141.