Organ Profile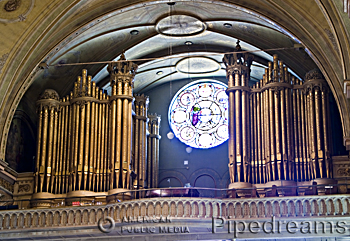 Orgue de tribune [Gallery Organ]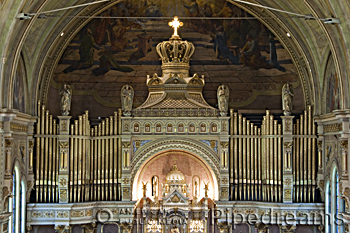 Orgue de choeur [Chancel Organ]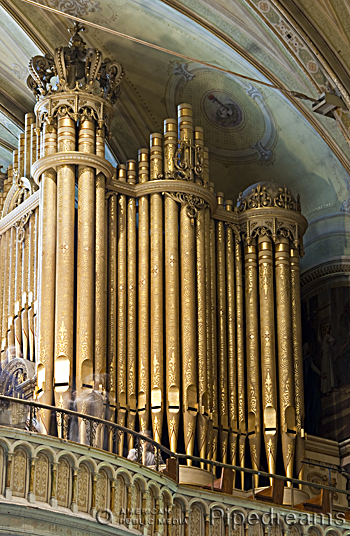 Orgue de tribune case detail.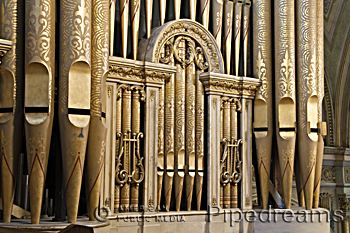 Detail of the pipe stenciling.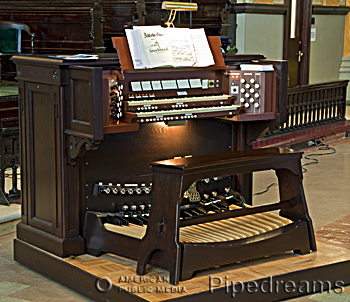 Detachable two manual console.
1915 Casavant Frères; 1999 Casavant Frères organ, Opus 600, at the Église Très-Saint-Nom-de-Jésus, Montréal, Québec, Canada
All of the images in this gallery were taken on our Tour of Québec. Join us on our next tour
Both the gallery and sanctuary organs of Opus 600 originally were controlled by the main four manual console located in the gallery. In 1998 a detached, movable, two manual drawknob console from a 1936 Casavant organ damaged in a fire was rebuilt and installed on a movable platform at the front of the nave to play both instruments.
Four manuals and pedals, 78 stops, 107 ranks with an electro-pneumatic action.
Orgue de tribune: 59 stops, 84 ranks
Orgue de choeur: 19 stops, 23 ranks
Programs that feature this organ
Links & Resources
More pipe organs