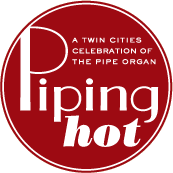 A Twin Cities Celebration of the Pipe Organ
We are back with another Piping Hot! festival in the Twin Cities, this year with a full month of free concerts, masterclasses and conversational workshops featuring an international gathering of exceptional recitalists. Come to one...come to them all!
These, and many other related activities in subsequent months, are part of the International Year of the Organ, promoted by the American Guild of Organists.
Join us to celebrate the PIPEDREAMS 25th Anniversary during an Organ Spectacular at Central Lutheran Church in Minneapolis, featuring outstanding local soloists (October 19) and a subsequent Sonic Blockbuster (October 24) with the University of Minnesota Wind and Percussion Ensembles combine with the mighty voice of the 108-rank Casavant/Schantz organ at Saint Andrew's Lutheran in Mahtomedi.
Also enjoy the solo artistry of visiting artists John Weaver, Gail Archer, Olivier Vernet and Pamela Decker (see details below).
Your host at each of these concert performances is PIPEDREAMS producer Michael Barone. He'll share background on music and instruments, talk with performers and organ builders, and field questions from the you in the audience.
Experience the full and fascinating potential of the "King of Instruments"...in music old and new...a traditional art that is very much alive in this 21st century. It's Piping Hot!
Friday
October 3 - 7:30PM
Friday
October 10 - 7:30PM
Sunday
October 19 - 3PM

Veteran American recitalist and composer John Weaver plays a solo concert on the Blackington pipe organ at Benson Great Hall of Bethel University in the Arden Hills neighborhood north of Saint Paul, MN.
No admission charge.

View location on Google Map

Recitalist Gail Archer (from Barnard College, NY) celebrates the centenary of the birth of Olivier Messiaen with performance of his monumental cycle "Meditations on the Mysteries of the Holy Trinity", featuring the Hendrickson tracker-action organ at Wayzata Community Church (125 Wayzata Boulevard East) in Wayzata, MN.
No admission charge.

In celebration of PIPEDREAMS 25th Anniversary, and of the American Guild of Organist's International Year of the Organ, an 'Organ Spectacular' concert featuring a star-studded cast of Minnesota soloists (including Joseph Ripka, winner of the 2008 Dublin International Competition in Ireland, Jonathan Gregoire, Andrew Hackett, Aaron David Miller, David Cherwien, and Don Livingston), with PIPEDREAMS host Michael Barone and the 107-rank Casavant organ at the Central Lutheran Church (333 S. 12th Street) in Minneapolis, MN.
Co-sponsored by the Twin Cities Chapter of the American Guild of Organists

View directions to Central Lutheran Church

No admission charge.
Friday
October 24 - 7:30PM
Sunday
October 26 - 4PM
Monday
October 27 - 8:15PM

The University of Minnesota Wind and Percussion Ensembles team up with host Michael Barone and organists John Walker, Bill Chouinard, Dean Billmeyer and John Salveson for a sonic blockbuster (including Lou Harrison's spell-binding Concerto for Organ and Percussion and other works by Percy Grainger, Alfred Reed, David Maslanka, Marcel Dupré, Ron Nelson, and Herbert Nanney) featuring the 1927 Casavant organ (rebuilt in 2003 by Schantz) at Saint Andrew's Lutheran Church (Hilton Trail, one mile north of Highway 36) in Mahtomedi, MN.

October 26, Sunday:

*4PM – French recitalist Oliver Vernet makes his Saint Paul debut in concert of works by North German Baroque composers (Buxtehude, Bruhns, Böhm and Bach) on the C. B. Fisk organ at House of Hope Presbyterian Church (797 Summit Avenue) in Saint Paul, MN.
No admission charge.

Composer and recitalist Pamela Decker (of the University of Arizona in Tucson) plays works by American composers Angela Kraft Cross, Ken Yukl, Matthew Whitehouse and George Crumb, plus movements from the Nativity Suite by Olivier Messiaen on the Gabriel Kney tracker-action pipe organ at Saint Thomas Aquinas Chapel of the University of Saint Thomas (on Cleveland Avenue, 2 blocks north of Summit Avenue) in Saint Paul, MN.

For more details of these and other events check the PIPEDREAMS regional calendar.