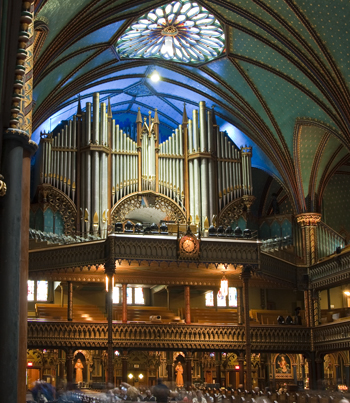 The 1891 Casavant Frères organ, Opus 26 & 1034
in the Notre-Dame Basilica, Montréal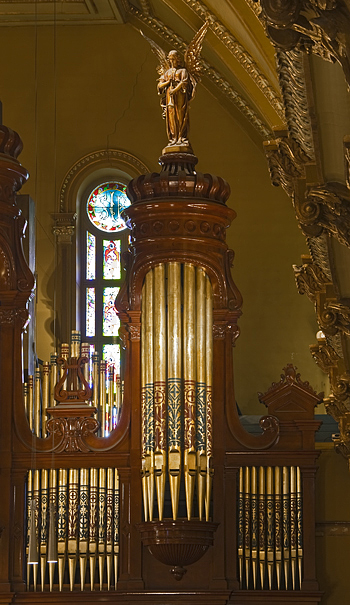 Detail of the right tower and statue of the
1915; 1996 Casavant Frères organ, Opus 615,
at Église Saint-Jean-Baptiste, Montréal
Pipedreams Tour 2008
Historic Organs of Québec May 17 – 30
A Canadian Caper? Why not, since the elements for which previous Pipedreams tours were notable were also found just north of the border:
A foreign country, with the exoticism of a different language, customs and cuisine.
A sense of antiquity, since the earliest Canadian pioneer settlements and religious foundations date back to the mid 1600s.
A variety of exceptional pipe organs in architecturally and geographically interesting settings. Plus no trans-oceanic jet lag!
The oldest surviving Canadian organ dates from 1854, and the most recent one were under construction when we visited the world-famous Canadian organ shops in St. Hyacinthe and though the newer Canadian organs are very up-to-date, we heard several recent projects that replicate the esthetics of the 1700s.
Casavant Frères, Ltd., Canada's largest and longest-lived organ builder, evolved from the early efforts of Joseph Casavant (1807-1874) and is directly descended from the company established in 1879 by his sons Samuel (1850-1929) and Claver (1855-1933). The Casavants were not the first in this business, as the historic work of Samuel Warren, Eusebe Brodeur, Louis Mitchell, and Napoléon Déry reminds, nor are they alone today, as recent work by Karl Wilhelm, Hellmuth Wolff, Guilbault- Thérien, Juget-Sinclair and others proves.
Québec Province blends French and English cultures, and though our tour was organ-centric, we created a rewarding music-rich itinerary in our full schedule, visiting our share of generic historic sites. Our memory-bank was far richer afterwards....and you can share in the experience by viewing our photo-gallery from the 2008 PIPEDREAMS Tour of Historic Organs of Quebec. Enjoy!

Picture Galleries:
Montréal - Welcome Dinner
Westmount — Montréal
Montréal
Saint-Hyacinthe — Saint-Liboire — Sainte-Cécile-De-Milton — Chambly
Boucherville — Saint-Roch-De-Richelieu — Saint-François-du-Lac — Drummondville
Trois-Rivières — Cap-De-La-Madeleine
Trois-Rivières — Sainte-Monique — Bécancour — Sainte-Sophie-De-Lévrard
Québec City
Saint-Michel-De-Bellechasse — Saint-Jean-Chrysostome — Saint-Romuald
Saint-Isidore — Plessisville — Victoriaville
Montréal — Westmount
Montréal
Montréal — Oka — Vaudreuil-Dorion — Les Cedres — Lachine