Pipedreams Tour 2011
Historic Organs of Northern Germany, May 7 – 19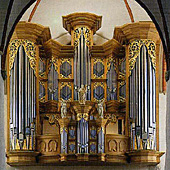 1693 Schnitger organ at Jacobikirche, Hamburg, Germany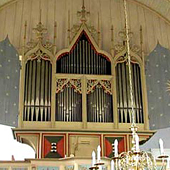 1457 Harmannus organ at Reformierte Kirche [Reformed Church], Rysum, Germany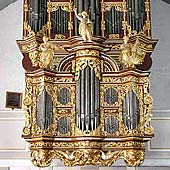 1680 Schnitger organ at Sankt Peter und Paul Kirche, Cappel, Germany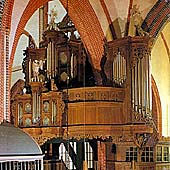 1692 Schnitger organ at Saint Ludgeri Church, Norden, Germany
PIPEDREAMS Fans!...It's official!! Our next tour targets Northern Germany and the dates are May 7-19, 2011. Mark your calendars, and don't hesitate to sign up now.
If you know at all about the history of the pipe organ, you know that Northern Germany is 'where it happened'. Dieterich Buxtehude played at the Marienkirche in Lübeck and knew the 1637 Stellwagen instrument at the Jakobikirche nearby. Vincent Lübeck played the early Huss-Schnitger organ at the church of St. Cosmae & Damiani in Stade. And the teen-aged Johann Sebastian Bach studied with Georg Böhm in Lüneburg, knew the Neihoff organ at the Johanneskirche, and visited Hamburg to consider the post at the Jakobikirche with its famous four-manual Schnitger pipe organ.
As creator of some of the Baroque era's best-known instruments, Arp Schnitger represents the 'first golden age' of the pipe organ and, in addition to Hamburg, we will visit his instruments in Neuenfelde, Norden, Steinkirchen, Lüdingworth, Cappel and Dedesdorf and Grasberg. Helmut Walcha and E. Power Biggs kick-started the 'Baroque Organ Revival' in the United States with their recordings on Schnitger organs, and the modern builder Rudolph von Beckerath came to prominence through his restorations of some of these organs...and his adoption of 'historic ideals' in his contemporary projects (think of the Beckerath organs we saw in Montreal a few years ago!).
The pioneering work of organologist Harald Vogel in the Weser-Elbe triangle and Ostfriesland revealed some of the secrets of the 'old boys', the builders of instruments from the 15th and 16th centuries in Rysum and Uttum, and Vogel's mission is continued through the work of the Organeum in Weener. Vogel's colleague, organ builder Jürgen Ahrend, set the standard for historically-informed restorations, and incorporated information learned from early instruments in his modern projects. We'll visit the Ahrend shop in Leer, too.
In addition to the Baroque and pre-Baroque gems, later instruments by Klapmeyer, Lohman, Rörer, Bethmann, Ladegast (in Schwerin) and Furtwängler, plus a few interesting newer installations by Ahrend, Woehl, Kuhn and Flentrop will round out our survey of this most impressive region.
With this wealth of riches and instruments from as early as 1457 and as recent as 2009, our biggest challenge will be to 'contain ourselves' within a reasonable region with an itinerary that is encompassing but not exhausting. We'll be accompanied throughout by Ulrich Feldhahn, an experienced tour guide and specialist in the cultural history of the region. We'll also be joined by several of the area's organ experts, and enjoy demonstration performances by many 'resident artists'. You'll have hands-on opportunity, too.
Save the dates, and dust off your German phrasebook. You will not want to miss out on this extraordinary adventure!
In anticipation, you can see photos from our past Tours on our Tour Archives Page ...and get in the spirit of the wonderful sights that await you.
Remember, because of the historic venues, a considerable amount of walking, often on irregular pavements, is an inevitable necessity, so do consider this challenge. We cannot guarantee ease of accessibility in every instance.
Space is limited on the tour bus, so don't delay in making your decision to join us by sending in your reservation soon!
I look forward to travelling with you!
For Reservations and further information contact:
Accolades International Tours for the Arts
800-747-2255, Ext. 133
or email Janet Tollund (Tour inquiries only please)
Michael Barone, PIPEDREAMS host-producer