Pipedreams Live at the Interlochen Center for the Arts
Hosted by Michael Barone
Sunday, February 4, 2007
On a snowy Sunday afternoon in northwest Michigan, several hundred avid organ-music-lovers converged on Interlochen's Dendrinos Chapel/Recital Hall for a performance event featuring students of Interlochen faculty organist Thomas Bara…four current Interlochen students, three recent Interlochen graduates, and two attendees of the previous summer's Interlochen Organ Camp. The occasion was recorded and produced for delayed local broadcast on Interlochen Public Radio, WIAA-88.7FM .
Presenter of the local WIAA broadcast was Thomas Bara. Editor and producer was Thom Paulson, audio engineer was Jack Conners. Michael Barone served as event guest host and spoke with the student performers during the course of the program.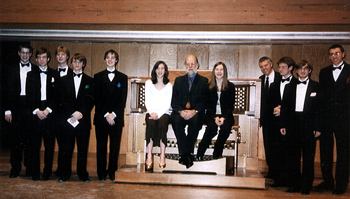 The Interlochen Pipedreams Live 'Crew'. Pictured are (left to right) Jonathan Gregoire, Samuel Reese, Edward Landin, Colin Doherty, Benton Blasingame…(on the bench) Grace Mackson, Michael Barone, Caroline Robinson… Thomas Bara, Mark Edwards, Mason Copeland, J. Joseph Peters.
Listen to Part One
Program:
J. S. BACH: Prelude & Fugue in C, S. 531
–Benton Balsingame (Collinsville, IL)
J. S. BACH: Nun komm, der Heiden Heiland , S. 659
–Samuel Reese (Athens, OH)
MAURICE DURUFLÉ: Prelude, from Suite, Opus 5
–Jonathan Gregoire (Naperville, IL)
J. S. BACH: Fantasy and Fugue in c, S. 537
–Caroline Robinson (Greenville, SC)
LÉON BOËLLMANN: Toccata, from Suite Gothique , Op. 25
–Grace Mackson (Okemos, MI)
Listen to Part Two
Program:
J. S. BACH: Prelude in f, S. 534
–Colin Doherty (Meridian, MS)
PAUL HINDEMITH: Lebhaft (1 st mvt.), from Organ Sonata No. 2
–Mason Copeland (Godfrey, IL)
JEANNE DEMESSIEUX: 3 Chorale-preludes (Attende Domine; Rorate Caeli; O Filii )
–Edward Landin (Center Barnstead, NH)
CHARLES-MARIE WIDOR: Variations (1 st mvt.), from Organ Symphony No. 5, Op. 42, #1
–Mark Edwards (Simcoe, Ontario, Canada)
Hear other youthful musicians from Interlochen, and elsewhere, on PIPEDREAMS Program #0704, Rootin' for the Youngsters.
More PIPEDREAMS LIVE!