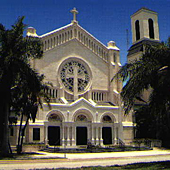 Trinity Episcopal Cathedral, Miami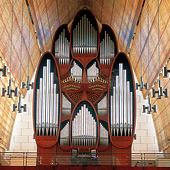 2001 Ruffatti organ at the Church of the Epiphany, Miami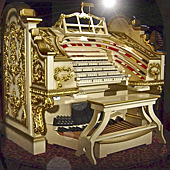 Wurlitzer console in the Milhous Museum, Boca Raton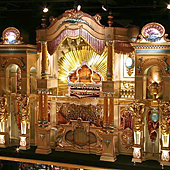 Dance hall organ in the Milhous Museum, Boca Raton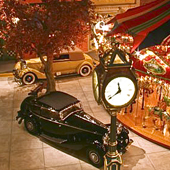 Automobiles and carousel in the Milhous Museum, Boca Raton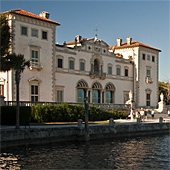 Vizcaya Museum, Miami Florida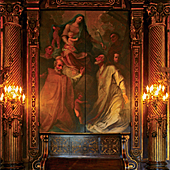 1917 Welte; Mignon pipe organ console in the Livingroom of the Vizcaya Museum
A Pipedreams Pipe Organ Weekend in Miami
February 26-27-28, 2010
Join Pipedreams host Michael Barone for an exciting three-day schedule of activities featuring the King of Instruments, in many varied contexts!
Friday, February 26 (12:30 p.m.) - 30-minute classical organ recital of works by Ouseley, Bach, Estrada and Howells, played by resident musician Matthew Steynor on the Skinner pipe organ at Trinity Episcopal Cathedral: 464 NE 16 th Street, Miami, FL.
Admission: Free
Friday, February 26 (7:30 p.m.) – a playoff concert by the three talented young finalists (David Baskeyfield, Jared Ostermann and Clayton Roberts) in the Miami International Organ Competition, featuring the 61-rank 2001 Ruffatti pipe organ at Epiphany Roman Catholic Church: 8081 SW 54th Court, Miami, FL.
Admission: Free
Saturday, February 27 (9:30 a.m. to noon) OR (1:00 to 3:30 p.m.):
Visit the prestigious Milhous Museum in Boca Raton, one of the world's foremost gatherings of antique automated musical instruments and classic automobiles.
This is an exceptional chance to encounter some truly indescribable treasures of a bygone era, marvelous mechanisms from the past, all meticulously restored to perfect operating condition. Orchestrions, fair organs, dance organs, and music boxes will be introduced and demonstrated.
The Milhous Museum's resident organist, David Wickerham, will play on the two exceptional theatre organs - a pipe organ by Wurlitzer and a digital organ by Walker - that are integral to the Museum. Refreshments will be served, and guests will have ample time to stroll about.
Saturday, February 27 (8 p.m.) - organist/harpsichordist Jean-Marc Aymes and soprano Maria Cristina Kiehr (who are the ensemble Concerto Soave, joined by cellist Gaetano Nasillo and harpist Mara Galassi) perform Music from Rome's Palazzo Ruspoli (including works by Handel and Scarlatti, etc.) are the opening concert of the Miami Bach Society's week-long Tropical Baroque Music Festival. The 4-stop chamber organ's role here is accompanimental, though still important.
St. Philip's Episcopal Church: 1142 Andalusia Avenue, Coral Gables, FL.
Admission: $35 —$45 [Click for more info]
Sunday, February 28 (1-5 p.m.) - A Vizcaya Organ Sunday, at Vizcaya Museum and Gardens: 3251 South Miami Avenue, Miami, FL
This event features the 1917 3-manual, 23-rank Welte orchestral residence pipe organ and its original roll player mechanism. Delight in light classics and other favorites audible throughout the National Historic Landmark mansion played for fifteen minutes each hour from 1 p.m. until closing at 5 p.m. Following the 4 p.m. performance, Michael Barone will comment briefly regarding the history of residence organs in early 20th century homes, and some impromptu live performers will be heard.
The organ's console is located in Vizcaya's Renaissance Hall, where presidents and popes have been entertained. This grand room accommodates only around 20 people, but the organ may be heard throughout the giant residence, particularly in the very large interior courtyard, which is within yards of the organ's pipe chambers.
This activity is open to the general public with admission charged, which includes access to the house and extensive gardens. This is a registered national historic landmark site, and a fully accredited museum.
Admission for Miami-Dade County residents and students with ID is $10, and $15 for others. Out-of-town guest should ask for the special Classical South Florida-Miami Pipedreams Organ Weekend admission price.
Sunday, February 28 (6:00 p.m.) - an Evensong Service of music and meditation, with the Anglican Chorale of Southeast Florida (plus organ prelude at 5:50 p.m.), at Trinity Episcopal Cathedral: 464 NE 16 th Street, Miami, FL.
Admission: Free
Sunday, February 28 (7:30 p.m.) - a solo recital by Uruguayan organist Cristina Garcia Banegas (guest judge of the Miami International Organ Competition), featuring the 74-rank 1999 Schantz pipe organ in the concert hall at the Dr. Herbert and Nicole Wertheim Performing Arts Center of Florida International University: 10910 SW 17 th Street, Miami, FL.
Admission: $10 (students $5) or $5 (students free) if you bring a program from one of the other weekend events. Free for South Florida AGO members.