Pipedreams 30th Anniversary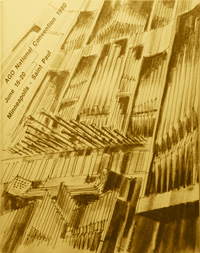 When the AGO's national convention was last held in the Twin Cities (1980), recordings from those events provided both the incentive for and content of the first 'special exploratory pilot series' of PIPEDREAMS broadcasts, a sequence of fourteen programs issued beginning in January 1982. After additional involvement with the next national AGO convention (1982 in Washington, DC), we decided that PIPEDREAMS could continue as a regular presence, and returned to the air on a weekly basis beginning in October 1983.
Michael Barone was, at that time, classical music director of Minnesota Public Radio, a position he held for 25 years, beginning in 1968. Barone made arrangements for MPR engineers to record virtually all of those convention concerts. Though some events were broadcast on MPR during that week in 1980, the majority of the recordings remained as 'available program material'.
The MPR schedule already included a weekly broadcast of THE ORGAN PROGRAM, an hour-long Sunday night show for which Barone had been host/producer since 1970. Though this could have been the obvious regional outlet for this AGO materials, Barone felt that the 1980 convention concerts were 'ready for prime time', worthy of national distribution.

From that notion (and with a canny suggestion in naming the show from then-MPR Program Director Nicholas D. Nash), the idea for PIPEDREAMS was born. Replacing THE ORGAN PROGRAM in the MPR schedule, PIPEDREAMS debuted as a discrete 14-show 'special offering' in the winter of 1982, and the very first PIPEDREAMS program aired both on MPR and nationally on a total of @64 stations on Sunday, January 3 that year.
In addition to the five stations (KSJR, KSJN, KCCM, KLSE, WSCD) which at that time made up the Minnesota Public Radio Network, the following stations also shared that initial offering of fourteen PIPEDREAMS programs with their listeners…and still broadcast the program today. We applaud them for their loyalty!
Albany-Schenectady-Troy, NY - WMHT
Atlanta, GA - WABE
Binghamton, NY - WSKG
Columbus, OH - WOSU
Interlochen, MI - WIAA
Louisville, KY - WUOL
Maryville, MO - KXCV
Rochester, NY - WXXI
Stillwater, OK - KOSU
Toledo, OH - WGTE

To more fully celebrate our anniversary, and satisfy your (and our) curoisity, we are raiding the archive and transferring the original 1982 analog broadcast tapes to digital format. You may be amused by the presentational style of Barone's announcements during the early broadcasts (he has loosened up in the intervening years!)
Some additional performances from the 1980 AGO Convention, which appear only partially in the broadcast programs, will also be included.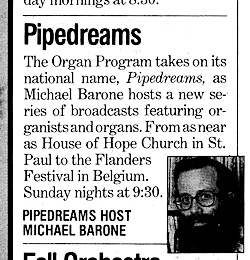 Enjoy, and Happy 30th Anniversary to you and us all!
The first 8 shows from 1982 are available online: