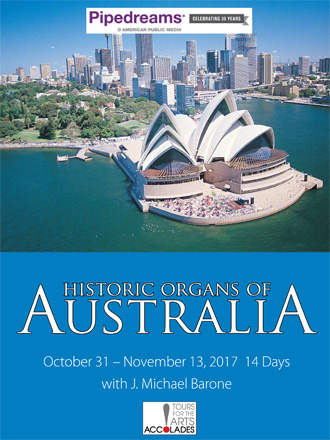 Click here for the full online tour book!
Pipedreams Friends:
The notion of a trip to visit pipe organs in Australia has been on my mind for a while. Since Australia is a colorful and interesting country, harbors the largest collection of 19th century British pipe organs in essentially original condition, is experiencing a southern hemisphere 'spring' in November, and since 2017-2018 marks the 35th anniversary season of PIPEDREAMS, I figured it was time to kick up our heels!

James Cook's charting of Australia's east coast led to the settlement of a penal colony in 1788, rather an inauspicious start for a new country. Originally, Australia possessed only a few small pipe organs, but instruments by prominent English and European builders began to be imported in the mid 19th century, and before long an indigenous Australian organ building culture evolved.

By the end of the 1800s, George Fincham, an emigré from England, had constructed almost 150 new organs for churches and public halls in Australia and New Zealand, and by then Australia could lay claim to some of the finest examples of the organ builder's craft to be found anywhere in the world. Indeed, the imported 1890 Hill organ at Sydney Town Hall still boasts one of few extant full-length 64' stops and remains the world's largest organ without any electric action components. More recently, local builder Ronald Sharpe created the world's largest mechanical action pipe organ for the Sydney Opera House Concert Hall.

It is always a challenge to limit the number of instruments we visit, thus my decision to focus only on the areas around Melbourne and Sydney. Our rich itinerary includes the two largest town hall installations as well as a wide variety of other notable instruments, older and newer, domestic and foreign.

We'll lodge in only two hotels and you'll have opportunities to enjoy seaside vistas, a harbor dinner cruise, and time for independent visits to the Taronga Zoo, the Sydney Aquarium, a Harbour Bridge Climb and various museums, as well as some free nights to explore on your own.

For you PIPEDREAMS regulars...and certainly those of you who missed out on our May trip to France...here's something quite exotic. I hope you can join us. It will be the trip of a lifetime!!

For an in depth look at our itinerary, check here!

Should you be curious, get on our mailing list to receive more information or contact Janet Tollund at Group Travel Directors (jtollund@gtd.org)
And while you are planning…
Michael has thought about the trip to Australia. Realizing that the 'official' jump from Los Angeles to Melbourne is something like 15 hours, and many of you will begin your journey from some other point (midwest, southeast, northeast), which just adds to length of time in a plane, consider this (below).

Not that it diminishes the overall travel hours, but it does provide a bit of a respite from non-stop plane travel.

Perhaps some of you would like to arrive in Los Angeles on Monday, October 30, the day before our 'official' departure for Australia (October 31, late evening departure). Though it probably fouls up the airline ticketing (and cost), we could arrange for a day of exploration of pipe organs in Los Angeles, including:

Our Lady of Angels Cathedral - Dobson Op. 75
1st Congregational Church - 1969 Schlicker
Royce Hall, UCLA
Walt Disney Concert Hall (tentative)

Organ builder Manuel Rosales would be our guide.

Four organs, lunch and dinner dutch-treat, then to the airport by 8PM for our 10:30PM departure to Australia. This might help you sleep on the long flight, too!
We look forward to traveling with you.
Michael Barone