Organ Notes:
Winning the Prize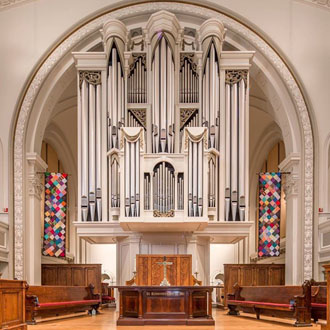 …revisiting laureates of the American Guild of Organists National Young Artist Competition in Organ Performance, and other contests.

View complete program


Don't miss your chance to travel to Australia with Pipedreams
We've announced a new trip to Australia (Oct. 31 – Nov. 13, 2017) … specifically to Melbourne and Sydney. Our website has complete information about this special Pipedreams 35th Anniversary Tour hosted by Michael Barone. Don't be left behind. We'll keep you "in the news" with your free subscription to this very newsletter; if this was forwarded to you, you can subscribe here.

See highlights from the Pipedreams tour of France
From May 23 to June 4, 2017, Michael Barone and a full complement of enthusiastic Pipedreams fans explored the historic organs of France. If you were not on the tour, you can still enjoy the scrapbook: view the itinerary and tourbook, and see day-by-day postings on Facebook..

Meet Michael!


Michael Barone makes personal appearances here and there, and would love to greet you at one of these upcoming events.

More events
Keep track of Michael Barone's travels, and join him if you can in some of these organ-centric activities.


Upcoming Episodes
Sept. 25, 2017: Out of Their Minds
Following a centuries-old tradition, these French organists have created new music in the moment through artful improvisation.
Oct. 2, 2017: Music for a Long While
We honor the life and work of one of the 'grand old men' of English cathedral music, Sir Francis Jackson, on the occasion of his centenary (born Oct. 2, 1917).
Oct. 9, 2017: Getting Hooked
A celebration of one of the foremost and most prolific of 19th century organ building firms in the United States, E. & G. G. Hook.



Program Archive


SPONSOR
Listening to Pipedreams
Find us on the radio
Hear us on any digital mobile device
Listen to our archives
Purchase Pipedreams CDs

More Great Audio

YourClassical live stream
Listen to YourClassical, a collection of curated audio streams, features and unique programs — including Pipedreams — to promote calm and focus through classical music.

Choral Stream
A 24-hour, all-choral music stream from YourClassical.




Free Sample Copy…

Subscribe to The American Organist Magazine from the AGO

Request a free sample copy of TAO, the monthly publication of the American Guild of Organists. Contact: members@agohq.org.


The Pipedreams Mailbag

Program Sponsors

PIPEDREAMS is supported by the generosity of Mr. and Mrs. Wesley C. Dudley, a grant from Walter McCarthy, Clara Ueland, and the Greystone Foundation, the Art and Martha Kaemmer Fund of the HRK Foundation, Jan Kirchner on behalf of her family foundation, the contributions of listeners to American Public Media stations, and by the Associated Pipe Organ Builders of America, APOBA, representing designers and creators of fine instruments found in religious and educational institutions, concert halls and residences world wide, with information on the Web, and toll-free at 800-473-5270.