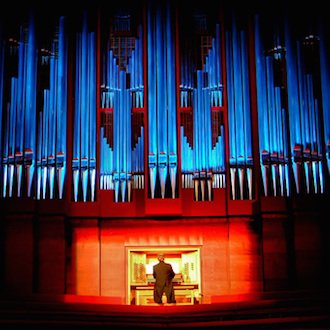 1997 Rieger/Town Hall Auditorium, Christchurch, New Zealand
Up and Coming
…a selective survey of some recent and intriguing CD releases of organ music.
Listen to the program
For the convenience of those of you with mobile devices, now you can listen to our PIPEDREAMS audio at http://www.yourclassical.org!
Program Broadcast dates:
Links and Resources:
Music played in the program
Hour 1
MONS LEIDVIN TAKLE: Celebration. DENIS BÉDARD: Cats at Play. NOËL GOEMANNE: El dia de Fiesta –Martin Setchell (1997 Rieger/Town Hall Auditorium, Christchurch, New Zealand) Pipeline Press 2
NICO MUHLY: The Rev'd Mustard His Installation Prelude. MAX REGER: Toccata in d, Op. 129, no. 1 –Amanda Mole (1984 Marcussen/Musashino Civic Cultural Hall, Tokyo, Japan) Naxos 8.573912
FLORENCE PRICE: Fantasy & Air, fr Suite No. 1 –Robert Parkins (1932 Aeolian/Duke University Chapel, Durham, NC) Loft 1147
DAVE BRUBECK: Two-Part Contention –Jan Kraybill (2015 Quimby/4th Presbyterian Church, Chicago, IL) Quimby 2019
PAUL FISHER: The White Tiger –Gabrielle Bullock, reader; Richard Cook (2008 Tickell/Worcester Cathedral, England) Regent 520
FREDRIK SIXTEN: Nordic Variations –James D. Hicks (1992 Klais/Hallgrimskirkja, Reykjavik, Iceland) Pro Organo 7287
Filler: MUHLY (see above)
Hour 2
T. TERTIUS NOBLE: Prelude on Watchman –John Scott Whiteley (1903-1960 Walker/York Minster, England) Priory 1116
FRANCIS JACKSON: Benedicite in G –Choir of York Minster/Robert Sharpe; Benjamin Morris (1903-1960 Walker/York Minster, England) Regent 522
JOSEPH GOLDEN: Fanfare. GERALD NEAR: Homage to Leo Sowerby & Fugue, fr Sonata No. 1 –Joseph Golden (2002 Letourneau/Rivercenter for the Performing Arts, Columbus, GA) Golden 2019
PETER RACINE FRICKER: Short Pieces, Op. 83 (Little Toccata; Scherzino; Varied Ostinato; Ceremony) –Tom Winpenny (1889 Anneessens/Bridlington Priory, England) Toccata Classics 0518
JOSEPH JONGEN: Priere, Op. 37, no. 3 –Scott Dettra (1960 Aeolian-Skinner+2015 Noack/Church of the Incarnation, Dallas, TX) Gothic 49309
JACQUES IBERT: Justorum animae in manu Dei sunt –William Peterson (2002 Fisk/Little Bridges Hall, Pomona College, Claremont, CA) Loft 1140
Filler – PRICE: Fantasy (see above)

Continuing support of PIPEDREAMS is provided in loving memory of Wesley and Lucinda Dudley by their family, with additional support from Walter McCarthy, Clara Ueland, and the Greystone Foundation, by Jan Kirchner on behalf of her family foundation, by the Art and Martha Kaemmer Fund of the HRK Foundation, in celebration of the life of Martha Hulings Kaemmer, and by listener-contributors to this public radio station. Additional support comes from OSI, Total Pipe Organ Resources of Erie, PA, and Parsons Pipe Organ Builders of Canandaigua, NY, members of APOBA, the Associated Pipe Organ Builders of America, a collaborative of designers, creators, and maintainers of pipe organs found in religious and educational institutions, concert halls, and residences throughout the United States and beyond. An APOBA resource guide and member prospectus is available at APOBA.COM.