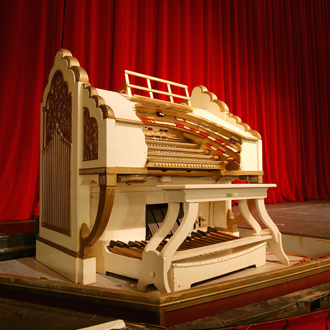 1930 Wurlitzer/Paramount Theatre, Denver, CO
Water Music
…fluent fingers fantasize the finer features of flowing streams, raging rivers, lazy or torrential raindrops, etc. as we acknowledge the importance of water in the organistís repertoire!
Listen to the program
For the convenience of those of you with mobile devices, now you can listen to our PIPEDREAMS audio at http://www.yourclassical.org!
Program Broadcast dates:
Links and Resources:
Music played in the program
Hour 1
JAN PIETERSZOON SWEELINCK: Variations, Ich fuhr mich über Rheine –Rhonda Sider Edgington (2012 Wahl/Augustana Lutheran Church, Chicago, IL) RSE 2015
LOUIS VIERNE: Sur le Rhin, Op. 54, no. 5 –Maxine Thévenot (1931 Skinner/Girard College Chapel, Philadelphia, PA) Raven 909
HOAGY CARMICHAEL: Lazy River –Dean Lemire (Wurlitzer/Oak Park Skating Rink, Portland, OR) ATOS 2010
HENRY MANCINI: Moon River –Jonathan Ortloff (Wurlitzer/Performing Arts Center, Providence, RI) ATOS 2011
HERB BROWN: Singin' in the rain –Dwight Thomas (Page/Stephenson High School, Stone Mountain, GA) ATOS 2013
PERCY FLETCHER: Fountain Reverie –Justin Hartz (1929 Aeolian/Longwood Gardens Ballroom, Kennett Square, PA) Pro Organo 7024
TREVOR WESTON: Rivers of living water –Trinity Choir/Julian Wachner, conductor; Avi Stein (2003 Marshall & Ogletree/Trinity Church Wall Street, New York, NY) Acis 72290
BEDRICH SMETANA (trans. Bannasch): The Moldau –Harry van Wijk (1931 Skinner/Girard College Chapel, Philadelphia, PA) Raven 979
Filler – CARMICHAEL (see above)
Hour 2
LUCIEN DENNI: The Oceana Roll –Tony Fenelon (Wurlitzer/Sanfilippo Music Salon, Barrington, IL) Pipedreams Archive (r. 5/19/04)
ALAN MENKEN: Under the Sea, fr The Little Mermaid –Charlie Balogh (Wurlitzer/Organ Stop Pizza, Mesa, AZ) ERB Enterprizes 110
MADELEINE DRING: Caribbean Dance –Simon Gledhill (1927 Wurlitzer/Alabama Theatre/Birmingham, AL) ALA 1783-09
EDOUARD COMMETTE: Sur le lac –Michael Eckerle (1901 Schwarz/Salem Abbey, Baden-Württemberg, Germany) Motette 12631
FELIX MENDELSSOHN: Venetian Gondola Song (fr Lieder ohne Worte), Op. 19, no. 6 –Christian von Blohn (1780 Holzhey/Obermarchtal Münster, Germany) Organ 7250
BRUCE NESWICK: I will set his dominion in the sea –Cathedral Choir & Choristers/Maxine Thévenot, director; Stephen Tharp (2002 Reuter/Cathedral of St. John, Albuquerque, NM) Raven 954
EDWARD ELGAR: Sea Slumber-Song & Sabbath Morning at Sea, fr Sea Pictures, Op. 37 –Sarah Rose Taylor, mezzo-soprano; Grace Cloutier, harp; Nigel Potts (2008 Schoenstein/Christ & St. Stephen's Church, New York, NY) MSR Classics 1532
ROBERT MAXWELL: Ebb Tide –Hans Uwe Hielscher (1930 Wurlitzer/Paramount Theatre, Denver, CO) Tonträger 2014
JEROME KERN: Showboat Medley –Tom Hazleton (Wurlitzer/San Sylmar Collection, Sylmar, CA) Pro Arte 434
Filler – SMETANA (see above)

Continuing support of PIPEDREAMS is provided in memory of Wesley C. Dudley by his family, with additional support from Walter McCarthy, Clara Ueland, and the Greystone Foundation, by Jan Kirchner on behalf of her family foundation, by the Art and Martha Kaemmer Fund of the HRK Foundation, in celebration of the life of Martha Hulings Kaemmer, and by listener-contributors to this public radio station. Additional support comes from Foley-Baker, Inc. of Tollund, CT, and Paul Fritts & Company Organ Builders of Tacoma, WA, members of APOBA, the Associated Pipe Organ Builders of America, a collaborative of designers, creators, and maintainers of pipe organs found in religious and educational institutions, concert halls, and residences throughout the United States and beyond. An APOBA resource guide and member prospectus is available at APOBA.COM.