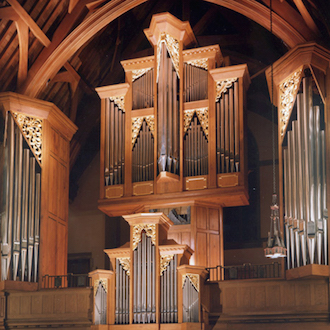 1979 Fisk/House of Hope Presbyterian Church, Saint Paul, MN
Twin Cities Trackers
…revisiting some engaging mechanical-instruments in Minneapolis-Saint Paul neighborhoods.
Listen to the program
For the convenience of those of you with mobile devices, now you can listen to our PIPEDREAMS audio at http://www.yourclassical.org!
Program Broadcast dates:
Links and Resources:
Music played in the program
Hour 1
PETER PLANYAVSKY: Toccata alla Rumba. GERALD NEAR: Triptych of Fugues –Carla Edwards (2004 Fisk/Shepherd of the Hills Lutheran Church, Shoreview) PD Archive (r. 6/24/08)
MARIE-BERNADETTE DUFOURCET: Improvisation –Marie-Bernadette Dufourcet (1979 Fisk/House of Hope Presbyterian Church, Saint Paul) PD Archive (r. 6/26/08)
JOHANN SEBASTIAN BACH (trans.): Concerto in d, BWV 596 (after Vivaldi Opus 3, no. 11). DIETERICH BUXTEHUDE: Ciacona in e, BuxWV 160. BUXTEHUDE: Ich dank dir, lieber Herre, BuxWV 194 –Julia Brown (1977 Casavant/Maternity of Mary Church, Saint Paul) PD Archive (r. 6/24/08)
Hour 2
JASON ROBERTS: Prelude & Fugue in Classic Style –Jason Roberts (1980 Sipe/Hennepin Avenue United Methodist Church, Minneapolis) PD Archive (r. 6/23/08)
BUXTEHUDE: Toccata in d, BuxWV 155. GEORG FRIEDRICH KAUFFMANN: Chorale Preludes, fr Harmonische Seelenlust (Wo Gott zum Haus nicht gibt; Lobt Gott, ihr Christen allzugleich; In dich hab ich gehoffet, Herr; Allein Gott in der Höh). CRISTINA BANEGAS: Meditacion obre el Coral. PAUL HINDEMITH: Organ Sonata No. 3 –Cristina Garcia Banegas (2000 Noack/St. Paul Seminary Chapel, Saint Paul) PD Archive (r. 6/24/08)
W. A. MOZART: Adagio in C, K. 617a –Randolph Bourne (1977 Brunzema-Casavant/Maternity of Mary Church, Saint Paul, MN) Ten Thousand Lakes 113
RACHEL LAURIN: Scherzo, fr Symphony No. 1, Op. 36. RAYMOND DAVELUY: Chaconne, fr Sonata No. 3 –Rachel Laurin (1987 Kney/University of St. Thomas Chapel, Saint Paul) PD Archive (r. 6/26/08)
These performances were recorded during a National Convention of the American Guild of Organists. Regional 2019 AGO conventions will take place this summer in Buffalo, NY (July 1-4), South Jersey (June 30-July 3), Myrtle Beach, SC (June 9-12), Grand Rapids, MI (June 30-July 3), Milwaukee, WI (June 16-19), Denver, CO (July 7-10), and Orange County, CA (June 30-July 3), and are open to all interested parties.

Continuing support of PIPEDREAMS is provided in memory of Wesley C. Dudley by his family, with additional support from Walter McCarthy, Clara Ueland, and the Greystone Foundation, by Jan Kirchner on behalf of her family foundation, by the Art and Martha Kaemmer Fund of the HRK Foundation, in celebration of the life of Martha Hulings Kaemmer, and by listener-contributors to this public radio station. Additional support comes from Syndyne Corporation of Vancouver, WA, and Taylor & Boody, Organbuilders of Staunton, VA, members of APOBA, the Associated Pipe Organ Builders of America, a collaborative of designers, creators, and maintainers of pipe organs found in religious and educational institutions, concert halls, and residences throughout the United States and beyond. An APOBA resource guide and member prospectus is available at APOBA.COM.