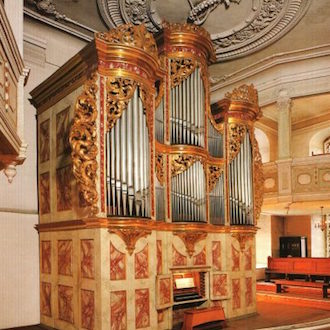 1725 Silbermann/St. Peter & Paul Church, Reichenbach, Germany
Two Will Do
…proving quality over quantity and the remarkable capability of organs with 'only' two manuals.
Listen to the program
For the convenience of those of you with mobile devices, now you can listen to our PIPEDREAMS audio at http://www.yourclassical.org!
Program Broadcast dates:
Links and Resources:
Music played in the program
Hour 1
FELIX MENDELSSOHN: Allegro (i.), fr Sonata in f, Op. 65, no. 1 –W. Randolph Bourne (1977 Brunzema-Casavant/Maternity of Mary Church, Saint Paul, MN) Ten Thousand Lakes 113
SAMUEL WESLEY: Voluntary in B-flat –David Butterworth (1794 Russell/St. Guthlac's Church, Branston, England) Fugue State 012
DOMENICO SCARLATTI: Sonatas in D, K. 287 & 282 –Maurizio Croci (1588 Ategnati -1816 Bossi/Collegiate Church, Bellizona, Switzerland) Stradivarius 33836
MICHAEL GOTTHARD FISCHER: 3 Orgelstücken (Prelude I/11; Prelude II/8; Postlude II/5) –Martin Haselböck (1725 Silbermann/St. Peter & Paul Church, Reichenbach, Germany) Querstand 0220
PEI-LUN VICKY CHANG: Raining Night's Flower & Cloudy Sky, fr Suite for Organ –Calvert Johnson (2003 Rosales/St. Bartholomew's Church, Atlanta, GA) Albany 1049
BARRIE CABENA: Variants (In memoriam John Cook), Op. 138 –Barrie Cabena (1974 Brunzema-Casavant/Keffer Chapel, Wilfrid Laurier University, Waterloo, Ontario, Canada) WLU SMCDBC2K
MENDELSSOHN (trans. Best): Overture to Saul, Op. 36 –Stephen Tharp (2005 Rosales, Glatter-Götz/Augustana Lutheran Church, West Saint Paul, MN) Pipedreams Archive (r. 11/21/14)
Filler – SCARLATTI K. 287 (see above)
Hour 2
CHARLES NEUSTEDT
: Gavot.
F. J. HAYDN
:
2 Pieces for Musical Clock
–
Susan De Kam
(
2000 Reuter
/Our Lady of the Lake Church, Rockwall, TX).
DALE WOOD
:
Caricature of a Sunday School Song
–
Ronald Krebs
(
1970 Reuter
/Institute of St. Joseph, Chippewa Falls, WI).
WALTER PELZ
:
Festive Intrada
–
Ronald Krebs
(
2007 Reuter
/St. Bartholomew Church, Wayzata, MN)
Raven 911
JAMES WOODMAN: Four Versets & Canzona (Lydian) –Peter Sykes (1981 Nordlie/Lutheran Church, Brandon, SD) Titanic 181
JAN PIETERSZOON SWEELINCK: Echo Fantasia in d –Reinhard Jaud (1558 Ebert/Court Chapel, Innsbruck, Austria) ORF 259
VINCENZO BELLINI: Sonata –Michał Markuszewski (1910 Schlag & Söhne/St. Bartholomew's Church, Knispel, Poland) Ars Sonora 2015
JOHANN CHRISTIAN HEINRICH RINCK: Variations on Ah, vous dirai-je, Maman –Richard Brasier (2003 Tickell/St. Laurence Parish, Upminster, England) Ravensbury 181
THEODORE MORRISON: The Gifts of the Spirit–Margaret Martin Kvamme (1889 Felgemaker - 1988 Goodwin/Holy Cross Church, Santa Cruz, CA) Albany 940
Filler – MENDELSSOHN Sonata (see above)

Continuing support of PIPEDREAMS is provided in memory of Wesley C. Dudley by his family, with additional support from Walter McCarthy, Clara Ueland, and the Greystone Foundation, by Jan Kirchner on behalf of her family foundation, by the Art and Martha Kaemmer Fund of the HRK Foundation, in celebration of the life of Martha Hulings Kaemmer, and by listener-contributors to this public radio station. Additional support comes from Létourneau Organs Limited of Saint-Hyacinthe, Quebec, and Muller Pipe Organ Company of Croton, OH, members of APOBA, the Associated Pipe Organ Builders of America, a collaborative of designers, creators, and maintainers of pipe organs found in religious and educational institutions, concert halls, and residences throughout the United States and beyond. An APOBA resource guide and member prospectus is available at APOBA.COM.