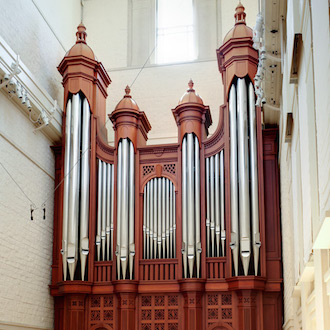 1997 Fisk-Rosales/Edythe Bates Old Recital Hall, Rice University, Houston, TX
Preludes and Fugues
…from the core format of organ music, these select and delectable items from beyond the standard repertoire.
Listen to the program
For the convenience of those of you with mobile devices, now you can listen to our PIPEDREAMS audio at http://www.yourclassical.org!
Program Broadcast dates:
Week of February 25, 2019
Links and Resources:
Music played in the program
Hour 1
HENRY MARTIN: Prelude & Fugue No. 9 in B –Stephen Tharp (1997 Fisk-Rosales/Edythe Bates Old Recital Hall, Rice University, Houston, TX) Pipedreams 1004
GEORG ANDREAS SORGE: Praeludium No. 4 in e. FRIEDRICH WILHELM MARPURG: Fugue No. 7 in E –Martin Haselböck (1753 Silbermann/Parish Church, Frankenstein, Germany) Querstand 0220
FRANZ LACHNER: Prelude & Fugue in E/e –Rudolf Innig (1911 Walcker/St. Jacob's Church, Ilmenau, Germany) MD&G 3171487
CHARLES VILLIERS STANFORD: Prelude & Fugue in e –Tom Winpenny (1892 Binns/Queen's College Chapel, Oxford, England) Resonus 10104
FERUCCIO BUSONI: Prelude & Fugue, Op. 5 –Paolo Bottini (1968 Bevilacqua/St. Andrea Church. Empoli, Italy) Bongiovanni 5191
FREDRIK SIXTEN: Prelude & Fugue (1986) –James D. Hicks (1929 Setterquist/Linköping Cathedral,Linköping, Sweden) Pro Organo 7239
Filler – MARPURG (see above)
Hour 2
ABRAHAM van den KERCKHOVEN: Prelude & Fugue in G –François Houtart (1995 Westenfelder/Notre Dame Cathedral, Luxembourg) Pavane 7381
JOSEF SEGER: Prelude & Fugue in D –Michal Novenko (1673 Mundt/Tyn Church, Prague, Czech Republic) Priory 880
OTTO OLSSON: Prelude & Fugue in f-sharp, Op. 52 (1918) –Hans Fagius (1976 Åkerman & Lund/Katarina Church, Stockholm, Sweden) Bis 191
PAULI RIIHIVAARA: Prelude and Fugue (1937) –James D. Hicks (1980 Virtanen/Turku Cathedral, Finland) Pro Organo 7279
CAMILLE SAINT-SAËNS: Prelude & Fugue in G, Op. 109, no. 2 –Margaret Phillips (1891 Willis -1936 Harrison/Exeter Cathedral, England) York 110
FELIX MENDELSSOHN (trans. Bossert): Prelude & Fugue in B-flat, Op. 35, no. 6 –Christoph Bossert (1850 Schönach/St. Peter & Paul Church, Kastelruth, Germany) Saphir 830.860
Filler – MARTIN (see above)

Continuing support of PIPEDREAMS is provided in memory of Wesley C. Dudley by his family, with additional support from Walter McCarthy, Clara Ueland, and the Greystone Foundation, by Jan Kirchner on behalf of her family foundation, by the Art and Martha Kaemmer Fund of the HRK Foundation, in celebration of the life of Martha Hulings Kaemmer, and by listener-contributors to this public radio station. Additional support comes from Andover Organ Company of Methuen, MA, and Bedient Pipe Organ Company of Roca, NE, members of APOBA, the Associated Pipe Organ Builders of America, a collaborative of designers, creators, and maintainers of pipe organs found in religious and educational institutions, concert halls, and residences throughout the United States and beyond. An APOBA resource guide and member prospectus is available at APOBA.COM.