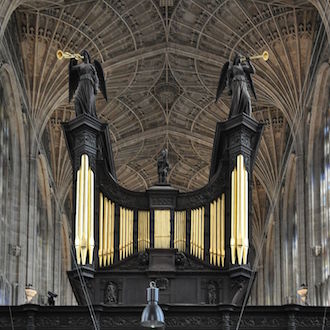 1968-2017 Harrison/King's College Chapel, Cambridge, England
The Nativity of the Lord
…picturesque evocations of the first Christmas, including the extraordinary music of Olivier Messiaen.
Listen to the program
For the convenience of those of you with mobile devices, now you can listen to our PIPEDREAMS audio at http://www.yourclassical.org!
Program Broadcast dates:
Week of December 10, 2018
Links and Resources:
Music played in the program
Hour 1
ANDRÉ FLEURY: Variations on a Noël from Burgundy –François Lemanissier (1893-2003 Debierre/Holy Cross Church, Saint-Lo, France) Triton 331137
CHARLES TOURNEMIRE: Christmas Prelude, fr L'Orgue Mystique, Op. 55, no. 3 –Georges Delvallee (1880 Cavaillé-Coll/Holy Cross Cathedral, Orleans, France) Accord 476.1058
OLIVIER MESSIAEN: La Vierge et l'enfant –Andrew Canning (2009 Ruffatti/Upsala Cathedral, Sweden) Sheva 163
MESSIAEN: Les Bergers –Pierre Pincemaille (2004 Darbassies/St. Eloi, Dunkirk) IFO 00318/9
MESSIAEN: Desseins éternels –Colin Andrews (2005 Fisk/St. Paul's Episcopal Church, Greenville, NC) Loft 1099
MESSIAEN: Le Verbe –Richard Gowers (1968-2017 Harrison/King's College Chapel, Cambridge, England) King's College 025
MESSIAEN: Les Enfants de Dieu –Dame Gillian Weir (1994 Frobenius/Aarhus Cathedral, Denmark) Priory 921
Filler – FLEURY (see above)
Hour 2
CHARLES TOURNEMIRE: Prelude and Variations for the Feast of the Holy Name of Jesus, fr L'Orgue Mystique, Op. 55, no. 6 –Sandro Müller (1929 Seifert/Liebfraukirche, Bottrop-Eigen, Germany) Cybele 050.106
J. WILLIAM GREENE: Christmas Ayres & Dances (Personet hodie; People look east; Joy to the world) –J. William Greene (1988 Klop chamber organ) Pro Organo 7281
JEAN LANGLAIS: La Nativité –John Tarver (1998 Schoenstein/Spring Valley United Methodist Church, Dallas, TX) Tarver 2002
MESSIAEN: Les Anges –Tom Winpenny (1962-2009 Harrison/St. Alban's Abbey, England) Naxos 8.573332
MESSIAEN: Jesus accepte la souffrance –Theodore Gillen (1963 Aeolian-Skinner/Cathedral of St. Paul, St. Paul, MN) Pipedreams Archive (r. 5/28/72)
MESSIAEN: Les Mages –Renée Ann Louprette (1962 Austin/St. Joseph's Cathedral, Hartford, CT) RAL 2008
MESSIAEN: Dieu parmi nous –Richard Gowers (1968-2017 Harrison/King's College Chapel, Cambridge, England) King's College 025
Filler – Les Anges (see above)

Continuing support of PIPEDREAMS is provided in memory of Wesley C. Dudley by his family, with additional support from Walter McCarthy, Clara Ueland, and the Greystone Foundation, by Jan Kirchner on behalf of her family foundation, by the Art and Martha Kaemmer Fund of the HRK Foundation, in celebration of the life of Martha Hulings Kaemmer, and by listener-contributors to this public radio station. Additional support comes from C. B. Fisk, Inc. of Gloucester, MA, and Foley-Baker, Inc. of Tollund, CT, members of APOBA, the Associated Pipe Organ Builders of America, a collaborative of designers, creators, and maintainers of pipe organs found in religious and educational institutions, concert halls, and residences throughout the United States and beyond. An APOBA resource guide and member prospectus is available at APOBA.COM.