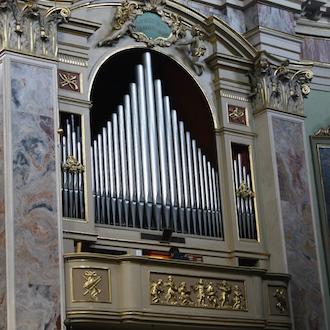 1988 Kleuker-Steinmeyer/Tonhalle, Zürich, Switzerland
500 Years of Italian Organ Music
…an overview of organ repertoire from the cradle of classical music, Italy.
Program Broadcast dates:
Links and Resources:
Music played in the program
Hour 1
MARCO ANTONIO CAVAZZONI: Salve Virgo –Fabio Antonio Falcone (Anonymous 17th c./St. Giuseppe, Montevecchio)
MICHELANGELO ROSSI: Toccata No. 7 –Ricardo Castignetti (1564 Antegnati/St. Barbara, Mantua)
GIROLAMO FRESCOBALDI: Toccata in F –Robert Loreggian (Anonymous 18th c./Church of the Annunciation, Casatico di Marcaria)
GIOVANNI GABRIELI: Canzon del duodecimo tono –Liuwe Tamminga (1475 de Prato) & Luigi Ferdinando Tagliavini (1586 Malamini/San Petronio Basilica, Bologna)
BERNARDO PASQUINI: Sonata No. 1 in D for Two Organs –Luca Scandali (1757 Nacchini) & Hadrian Jourdan (1785 Callido/Basilica Santa Maria della Misericordia, Fermo)
IGNAZO CIRRI: Sonata No. 2 in F –Massimo Gabba (San Bononio, Pozzengo)
ANTONIO VIVALDI: Concerto in F for Violin, Organ and Strings, RV 542 –L'Arte dell'Arco/ Federico Guglielmo, violin; Robert Loreggian (Anonymous 17th c./Oratorio de San Bovo, Padua)
PADRE DAVIDE da BERGAMO: Sinfonia in D –Marco Ruggeri (1855 Gudici/Parish church, Villa de Serio, Bergamo)
Hour 2
DOMENICO SCARLATTI: Sonata in g, K. 35 –Vincent Boucher (1993 Wilhelm/Holy Redeemer Church, Montreal, Quebec) ATMA 2341
DOMENICO ALBERTI: Sonata in g –Manuel Momadin (1773 Dacci/Marano Laguare, Undine)
VINCENZO PETRALI: Sonata in F per l'Offertorio; Sonata Finale –Marci Ruggeri (1862 Serassi/Parish Church of Gottolengo)
FERUCCIO BUSONI: 4 Preludes, fr Op. 37 (Nos. 1-4) –Paolo Bottini (1968 Bevilacqua/St. Andrea Church, Empoli, Italy) Bongiovanni 5191
MARIO CASTELNUOVO-TEDESCO: Prelude on a 12-Tone Row –Livia Mazzanti (1988 Kleuker-Steinmeyer/Tonhalle, Zurich, Switzerland) Aeolus 10541
MASSIMO NOSETTI: Rondo-Scherzo –Domenico Severin (2013 Bonato/Villasanta Cathedral, Italy) Syrius 141471
GIUSEPPE VERDI: I Lombardi Prelude –Paolo Bottini (1861 Serassi/St. Andrew of the Cross, Bergamo, Italy) Bongiovanni 5179
Unless otherwise notes, most performances…particularly in Hour One…come from a 50-CD box set, 500 Years of Organ Music (Brilliant Classics 95310), though some items may be separately available in the Brilliant Classics catalog.

PIPEDREAMS is supported by the generosity of Mr. & Mrs. Wesley C. Dudley, by grants from Walter McCarthy, Clara Ueland, and the Greystone Foundation, the Art and Martha Kaemmer Fund of the HRK Foundation, and Jan Kirchner on behalf of her family foundation. Additional support comes from Pasi Organ Builders, Inc. of Roy, WA, and Peterson Electro-Musical Products of Alsip, IL, members of APOBA, the Associated Pipe Organ Builders of America, a collaborative of designers, creators, and maintainers of pipe organs found in religious and educational institutions, concert halls, and residences throughout the United States and beyond. An APOBA resource guide and member prospectus is available at APOBA.COM.