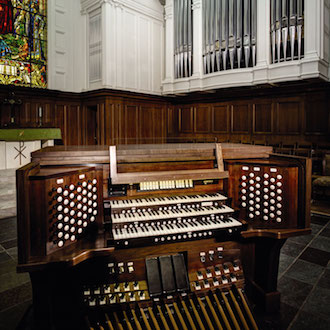 2013 Parkey/Providence United Methodist Church, Charlotte, NC
Ravin' About Raven
…highlights of recent releases from the Raven CD catalog with comments from label chief William T. Van Pelt.
Listen to the program
For the convenience of those of you with mobile devices, now you can listen to our PIPEDREAMS audio at http://www.yourclassical.org!
Program Broadcast dates:
Week of September 17, 2018
Links and Resources:
Music played in the program
Hour 1
PAUL HINDEMITH: Lebhaft (i.), fr Organ Sonata No. 2 —Timothy Olsen (1965 Flentrop/Salem College, Winston-Salem, NC) Raven 977
JAMES H. ROGERS: Allegro con brio, fr Sonata No. 1 in e —Charles Echols (1927 Casavant - 2001 Schantz/St. Andrew's Lutheran Church, Mahtomedi, MN) Raven 978
DUDLEY BUCK: Variations on Old Folks at Home —Dongho Lee (2013 Parkey/Providence United Methodist Church, Charlotte, NC) Raven 143
GEORGE WHITEFIELD CHADWICK: Elegy (In Memoriam H. Parker) —Parker Ramsay (1955 Aeolian-Skinner/Byrnes Auditorium, Winthrop University, Rock Hill, SC) Raven 154
SERGEI RACHMANINOFF: Andante cantabile, fr Piano Concerto No. 1 in f#, Op. 1 —Jeremy Filsell, piano; Peter Conte (Wanamaker Organ/Macy's, Philadelphia, PA) Raven 155
RENÉ BECKER: Idylle Angélique, Op. 71. BECKER: Marche Militaire, Op. 62 —Damin Spritzer, Adam Pajan (1938 Kimball/St. John's Cathedral, Denver, CO) Raven 999
Filler – ROGERS
Hour 2
JEAN-ADAM GUILAIN: Prelude, fr Suite du second ton. MAURICE DURUFLÉ: Sicilienne, fr Suite, Op. 5 —Andrew Scanlon (2005 Fisk/St. Paul's Episcopal Church, Greenville, NC) Raven 947
DANIEL GAWTHROP: 3 Floral Preludes —David Pickering (2005 Quimby/Canyon Creek Presbyterian Church, Richardson, TX) Raven 158
DANIEL PINKHAM: A Prophecy —Laura Ellis (1980-92 Möller/University of Florida, Gainesville, FL) Raven 995
FRANCIS POTT: Improvisation on Adeste fidelis —Jeremy Filsell (1968 Aeolian-Skinner/Church of the Epiphany, Washington, DC) Raven 157
OLIVIER MESSIAEN: Prélude —Jon Gillock (2014 Quoirin/Church of the Ascension, NYC) Raven 983
THIERRY ESCAICH: Deux Poèmes (Eaux Natales; Vers l'Esperance) —Yuan Shen (2012 Casavant/Kennedy Center, Washington, DC) Raven 141
Filler – BECKER: Marche

PIPEDREAMS is supported by the generosity of Mr. & Mrs. Wesley C. Dudley, by grants from Walter McCarthy, Clara Ueland, and the Greystone Foundation, the Art and Martha Kaemmer Fund of the HRK Foundation, and Jan Kirchner on behalf of her family foundation. Additional support comes from Intergrated Organ Technologies, Inc. of Roswell, GA, and Kegg Pipe Organ Builders of Hartville, OH, members of APOBA, the Associated Pipe Organ Builders of America, a collaborative of designers, creators, and maintainers of pipe organs found in religious and educational institutions, concert halls, and residences throughout the United States and beyond. An APOBA resource guide and member prospectus is available at APOBA.COM.