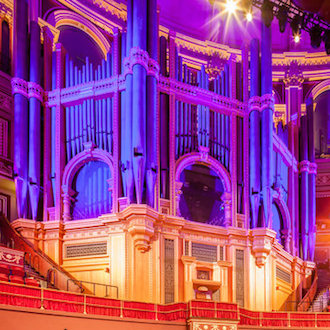 1871 Henry Willis; 1933 Harrison; 2004 Mander/Royal Albert Hall, London, England, UK
Another Prom Date
…we revisit Londonís celebrated Royal Albert Hall for a performance from the immensely popular BBC Proms 2018 season.
Listen to the program
For the convenience of those of you with mobile devices, now you can listen to our PIPEDREAMS audio at http://www.yourclassical.org!
Program Broadcast dates:
Links and Resources:
Music played in the program
Hour 1
CHARLES-MARIE WIDOR: Toccata, fr Symphony No. 5. CÉSAR FRANCK: Pièce héroique. GABRIEL FAURÉ (arr. Apkalna): Pavane. J. S. BACH: Pièce d'orgue, or Fantasy in G, BWV 572. GEORGE THALBEN-BALL: Variations on a Theme by Paganini (Study for the Pedals). THERRY ESCAICH: Deux Évocations –Iveta Aplakna (r. 7/22/2018)
The featured instrument, second-largest in the United Kingdom, was built by Henry Willis in 1871. Additions and renovations by the firms of Harrison & Harrison and N. P. Mander have brought the original 111-stop specification to today's total of 147 stops and 9997 pipes.
Hour 2
JEAN LANGLAIS: Invocation pour un jour saint ĖChristopher Herrick (Hyperion 66258)
GIOVANNI MORANDI (trans. Best): Bell Rondo. JOHN IRELAND: The Holy Boy. GABRIEL PIERNÉ (trans. Wier): Marche des Petits Soldats de Plomb –Thomas Trotter (Regent 323)
EDWIN H. LEMARE: Andantino in D-flat –Harold Britton (ASV 6028)
MARCEL DUPRÉ: Symphony in g for Organ and Orchestra, Op. 25 –Royal Philharmonic Orchestra/Jahja Ling; Michael Murray (Telarc 80136)

PIPEDREAMS is supported by the generosity of Mr. & Mrs. Wesley C. Dudley, by grants from Walter McCarthy, Clara Ueland, and the Greystone Foundation, the Art and Martha Kaemmer Fund of the HRK Foundation, and Jan Kirchner on behalf of her family foundation. Additional support comes from Berghaus Organ Company, Inc. of Bellwood, IL, and Bond Organ Builders of Champaign, IL, members of APOBA, the Associated Pipe Organ Builders of America, a collaborative of designers, creators, and maintainers of pipe organs found in religious and educational institutions, concert halls, and residences throughout the United States and beyond. An APOBA resource guide and member prospectus is available at APOBA.COM.