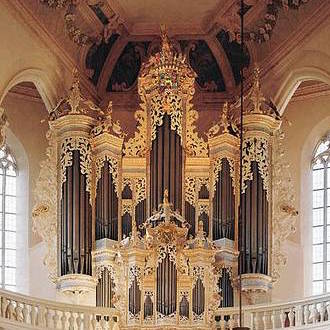 1746 Hildebrandt/St. Wenzel Church, Naumburg, Germany
Bach again
…the immeasurable treasure of Bach's compositions for organ provides perpetual pleasure.
Listen to the program
For the convenience of those of you with mobile devices, now you can listen to our PIPEDREAMS audio at http://www.yourclassical.org!
Program Broadcast dates:
Links and Resources:
Music played in the program
Hour 1
J. S. BACH: Fantasy & Fugue in g, BWV 542 –Christopher Houlihan (1971 Austin/Trinity College Chapel, Hartford, CT) Azica 71314
BACH: Prelude & Fugue in C, BWV 531 –Olivier Vernet (1988 Guillemin/Church of Sts. Peter & Paul, Chavagnes-en-Paillers) Ligia Digital 0104081/99
BACH: Selections, fr Well-tempered Clavier, Book 1 (Prelude in E-flat, BWV 852; Prelude in B-flat, BWV 866; Prelude in f, BWV 857; Prelude in G, BWV 860; Fugue in C, BWV 846) –Timothy Albrecht (2003 Jaeckel/Schwartz Center, Emory University, Atlanta, GA) Albach 2010
BACH: Orgelbüchlein Chorale-preludes, BWV 636/8 (Vater unser im Himmelreich; Durch Adams Fall; Es ist das Heil) –Swiss-Italian Radio Choir/Diego Fasolis, director; Francesco Cera (2009 Mascioni/Santa Maria Assunta, Giubiasco, Switzerland) Brilliant Classics 94639
BACH (trans. DeJong): Aria, fr Cantata BWV 170 –Euwe and Sybolt de Jong (1738 Müller/St. Bavo Church, Haarlem, The Netherlands) DeJong 6
BACH: Introduction, fr Cantata BWV 34 –Graham Ashton Brass Ensemble; Duncan Patton, timpani; Anthony Newman (1993 Mander/St. Ignatius Loyola Church, New York, NY) Sonoma 001
Filler – Fantasy in g, BWV 542 (see above)
Hour 2
BACH: Alle Menschen müssen sterben, BWV 643, fr Orgelbüchlein –Paul Manz (1966 Schlicker/Mount Olive Lutheran Church, Minneapolis, MN) Manz 1994
BACH: 2 Orgelbüchlein Chorale-preludes (Wenn wir in höchsten Nöten sein, BWV 641; Der Tag der ist so freudenreich, BWV 605) –Dom André Laberge (1999 Wilhelm/Saint-Benoit-du-Lac Abbey, Quebec) ATMA 3.2299
BACH: An Wasserflüssen Babylon, BWV 653 –Dietrich Wagler (1714 Silbermann/Freiberg Cathedral, Germany) Motette 12451
BACH: Fantasia & Fugue in a, BWV 904 –Maurizio Croci (1998 Mascioni/Collegiate Church, Bellinzona, Italy) Stradivarius 33836
UWE STEINMETZ: Fantasia after Bach –Uwe Steinmetz, saxophone; Torsten Laux (1971 Strutz/Christuskirche. Leverkusen, Germany) Organ Promotion 8004
BACH: Fantasia in C, BWV 570; Fugue in C, BWV 946 –William Porter (1723 Hildebrandt/Parish Church, Störmthal, Germany) Loft 1086
BACH: Toccata & Fugue in d, BWV 538 –Robert Clark (1746 Hildebrandt/St. Wenzel Church, Naumburg, Germany) Calcante 041
Filler – Sinfonia from Cantata BWV 34 (see above)
We commemorate J.S.B. on the 268th anniversary of his death (July 28, 1750).

PIPEDREAMS is supported by the generosity of Mr. & Mrs. Wesley C. Dudley, by grants from Walter McCarthy, Clara Ueland, and the Greystone Foundation, the Art and Martha Kaemmer Fund of the HRK Foundation, and Jan Kirchner on behalf of her family foundation. Additional support comes from Taylor & Boody, Organbuilders of Staunton, VA, and A. Thompson-Allen Company of New Haven, CT, members of APOBA, the Associated Pipe Organ Builders of America, a collaborative of designers, creators, and maintainers of pipe organs found in religious and educational institutions, concert halls, and residences throughout the United States and beyond. An APOBA resource guide and member prospectus is available at APOBA.COM.