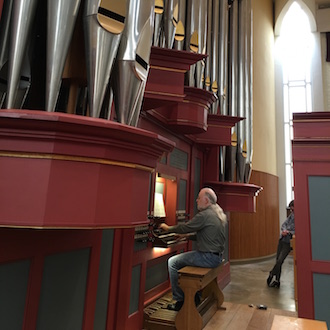 Michael Barone (Oberlin Conservatory '68) takes the Warner Concert Hall Flentrop for a spin. No one was injured! Photo by Jonathan Moyer
Oberlin Revisited I
…performances by students of the Oberlin Conservatory of Music in Ohio.
Listen to the program
For the convenience of those of you with mobile devices, now you can listen to our PIPEDREAMS audio at http://www.yourclassical.org!
Program Broadcast dates:
Links and Resources:
Music played in the program
Hour 1
DIETERICH BUXTEHUDE: Toccata in d, BuxWV 155 –Wesley Hall (1974 Flentrop/ Warner Concert Hall)
PERCY WHITLOCK: Fantasie Choral No. 2 in F# –Nicholas Capozzoli (2001 Fisk/Finney Chapel)
BUXTEHUDE: Chaconne in c, BuxWV 159 –Natalie Mealey (1984 Bozeman/Peace Community Church)
ANTON HEILLER: Partita on Es ist ein Ros' –Noel Warford (1955 Holtkamp/Kulas Organ Center)
PETR EBEN: Hommage à Buxtehude –Olga Lebedeva (Warner Concert Hall)
Filler – BÖHM Praeludium in d (Tate Addis, Warner Concert Hall)
Hour 2
J. S. BACH: Vivace (i.), fr Trio Sonata No. 2 in c, BWV 526 –Tate Addis (Kulas Organ Center)
BACH: Largo, fr Trio Sonata No. 2 –Tate Addis (Warner Concert Hall)
SAMUEL SCHEIDT: Variations, Also stehts, also gehts –Matthew Buller (Fairchild Chapel)
LOUIS VIERNE: Allegro vivace (iv.), fr Organ Symphony No. 1, Op. 14 –Matthew Buller (Finney Chapel)
LOUIS JAMES ALFRED LEFEBURE-WELY: Pifferari –Diane Meredith Belcher (Finney Chapel, r. 7/9/09)
BERT MATTER: Fantasie sopra "Von Gott will ich nicht lassen" –Gerwin Hoekstra (Finney Chapel)
BACH: Prelude & Fugue in D, BWV 532 –David Boeckh (Warner Concert Hall)
Filler – BUXTEHUDE Toccata in d (see above)
Thanks to Oberlin Conservatory faculty members James David Christie and Jonathan Moyer for their cooperation, and excellent work with their students, and to audio supervisor Paul Eachus for assistance!
Fifty years ago, Michael Barone graduated from the Oberlin Conservatory and, not wanting to go on immediately to grad school, found a job with a small radio station in central Minnesota. He never did make his way back to academia and has been with that 'little station'… now the impressive Minnesota Public Radio/American Public Media enterprise… for fifty years, for the past thirty-five years as host-producer of Pipedreams. As he realized while recording these students in May 2016, the organ scene at Oberlin has changed quite a bit since he was a student!
Click here for more information about Organ Studies at Oberlin.

PIPEDREAMS is supported by the generosity of Mr. & Mrs. Wesley C. Dudley, by grants from Walter McCarthy, Clara Ueland, and the Greystone Foundation, the Art and Martha Kaemmer Fund of the HRK Foundation, and Jan Kirchner on behalf of her family foundation. Additional support comes from Letourneau Organs Limited of St. Hyacinthe, Quebec, and Muller Pipe Organ Company of Croton, OH, members of APOBA, the Associated Pipe Organ Builders of America, a collaborative of designers, creators, and maintainers of pipe organs found in religious and educational institutions, concert halls, and residences throughout the United States and beyond. An APOBA resource guide and member prospectus is available at APOBA.COM.