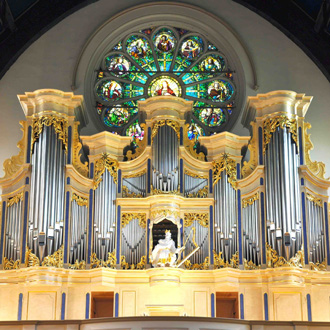 2008 Craighead-Saunders Organ at Christ Church, Rochester, NY.
The Eastman Kids at Christ Church (I)
…the first of two Pipedreams Live! programs featuring students of the Eastman School of Music and the organs at Christ Church, Rochester, NY.
Listen to the program
For the convenience of those of you with mobile devices, now you can listen to our PIPEDREAMS audio at http://www.yourclassical.org!
Program Broadcast dates:
Links and Resources:
Music played in the program
Hour 1
C.P.E. BACH: Allegro (i), fr Sonata No. 3 in F –Hans Davidsson (Loft 1115)
MAX REGER: Introduction & Passacaglia in d, WoO –Nicholas Halbert
DIETERICH BUXTEHUDE: Toccata in F, BuxWV 156 –Jacob Taylor
CALVIN HAMPTON: Lullaby, fr Suite No. 2 –Angela Salcedo
J.S. BACH: Christ, unser Herr, zum Jordan kam, BWV 684 –Amanda Mole
J.S. BACH: Praeludium in C, BWV 547 –Sarah Simko
Filler – KITTEL: Praeludium in e-flat –David Higgs (Loft 1115)
Hour 2
BACH: Partita, Sei gegrüsse, Jesu gütig, BWV 768, Variation 1 -William Porter (Loft 1115)
HERBERT HOWELLS: Rhapsody in D-flat, Op. 17, no. 1 –Caroline Robinson
JAN PIETERSZOON SWEELINCK: Mein junges Leben hat ein End –Edward Dean
LOUIS VIERNE: Allegro vivace (iv.), fr Symphony No. 1, Op. 14 –Jiaqi Shao
CESAR FRANCK: Cantabile –Cory Whittier
FELIX MENDELSSOHN: Allegretto (iii.) and Allegro maestoso (iv.), fr Sonata No. 4, Op. 65 –Adam Detzner & Karl Robson
Filler – REGER (see above)
These performances were recorded by public radio station WXXI-Rochester (r. April 22, 2016). Featured instruments include the Craighead-Saunders organ (modeled after a 1776 Adam Gottlob Casparini in Vilnius, Lithuania) completed in 2008 by a GOArt consortium headed by Munetaka Yokota and Mats Arvidsson, and a relocated and restored 1893 Hook & Hastings organ, formerly from Portland, ME. An album of performances on the Craighead-Saunders organ by Hans Davidsson, William Porter, and David Higgs is available from Loft Recordings.
Check out additional programs featuring performances from Eastman, PIPEDREAMS LIVE! performances recorded in February 2009…Parts One and Two.