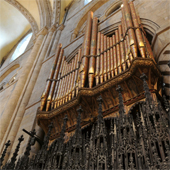 1877 Willis-1970 Harrison at Durham Cathedral, England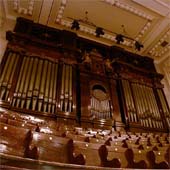 1914 Norman & Beard at Usher Hall, Edinburgh, Scotland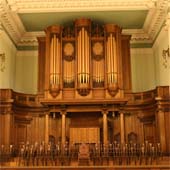 1913 Brindley & Foster at the Freemasons Hall, Edinburgh

1913 Harrison at Ripon Cathedral, England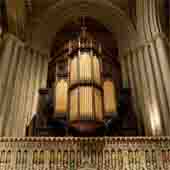 1926 Willis at Liverpool Anglican Cathedral, England
The Glories of Great Britain
…a selective sampler of some of the venues to be visited during the upcoming Pipedreams Tour in northern England and Scotland (May 16-29, 2016).
Listen to the program
For the convenience of those of you with mobile devices, now you can listen to our PIPEDREAMS audio at http://www.yourclassical.org!
Program Broadcast dates:
Links and Resources:
Music played in the program
Hour 1
SIR ARTHUR BLISS (arr. Gower): Fanfare for the Lord Mayor of London; Bridal Ceremony, fr Adam Zero; Seven Waves Away; The Rout Trot –Tom Bell (1877 Willis-1970 Harrison/Durham Cathedral, England) Regent 409
EDWARD BARISTOW: Evening Song –John Kitchen (1914 Norman & Beard/Usher Hall, Edinburgh, Scotland) Priory 858
EDGAR BARRATT (trans. Hull): Coronach (A Highland Lament) –Simon Nieminski (1913 Brindley & Foster/Freemasons Hall, Edinburgh) Pro Organo 7240
JOHN S. BENSON: Psalm 145 –Richard Lea (1967 Walker/Liverpool Metropolitan Cathedral, England) Priory 871
WILLIAM HARRIS: Magnificat in A –Cathedral Choir/Kerry Beaumont, director; Robert Marsh (1913 Harrison/Ripon Cathedral, England) Priory 555
H. WALFORD DAVIES: Solemn Melody –Ian Tracey (1926 Willis/Liverpool Anglican Cathedral, England) Priory DVD 1
SIMON PRESTON: Alleluyas –Noel Rawsthorne (1926 Willis/Liverpool Anglican Cathedral, England) Priory 931
Filler – BLISS: Seven Waves Away (see above)
Hour 2
G. F. HANDEL: March –John Kitchen (1897 Hope-Jones/McEwan Hall, University of Edinburgh, Scotland) Priory 5000
JOHANN PACHELBEL: Toccata & Fugue in g –Matthew Owens (1978 Ahrend/Reid Concert Hall, University of Edinburgh) Delphian 34021
JEAN LANGLAIS: Fantasy on Two Scottish Themes –Jane Watts (1902 Lewis/Kelvingrove Art Gallery, Glasgow) Priory 414
ANONYMOUS (pub. Attaignant): 6 Dances –Gillian Weir (1975 Phelps/Hexham Abbey, Northumberland) Priory 752
FELIX MENDELSSOHN (arr. Lemare): A Midsummer Night's Dream Overture –Timothy Bryam-Wigfield (1879 Willis/St. Mary's Cathedral, Edinburgh) Herald 169
LOUIS CLAUDE DAQUIN: Le Coucou –Jonathan Scott (1913 Binns/Rochdale Town Hall, England) Scott Brothers Duo 007
JOHN SCOTT WHITELEY: Aubade, Op. 8 –John Scott Whiteley (1903 Walker/York Minster, England) Regent 353
HERBERT HOWELLS: Te Deum, fr Collegium Regale –York Minster Choir/Robert Sharpe, director; David Pipe (York Minster) Regent 391
Filler – BENSON: Psalm 145 (see above)
Organist Chris Nickol played Life on Mars in tribute to the late David Bowie and, in doing so, brought an awareness of the pipe organ at Glasgow's Kelvingrove Art Gallery to millions of viewers/listeners.