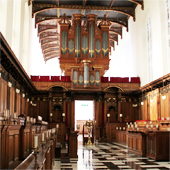 1876 Metzler at Trinity College, Cambridge, England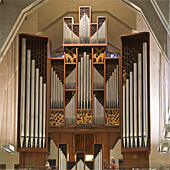 1960 Beckerath at St. Joseph's Oratory, Montreal, Quebec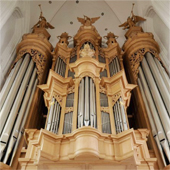 2013 Flentrop at St. Catherine's Church, Hamburg, Germany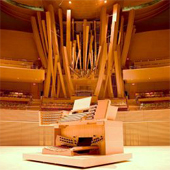 2004 Glatter-Götz-Rosales at Walt Disney Concert Hall, Los Angeles, CA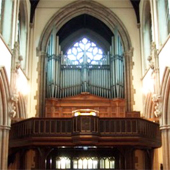 1912 Walker at Sacred Heart Church, Wimbledon, England
What's New?
…getting the New Year off to a fine start with a survey of some recent compact disc releases. Contents TBA. Tune in and check us out.
Listen to the program
For the convenience of those of you with mobile devices, now you can listen to our PIPEDREAMS audio at http://www.yourclassical.org!
Program Broadcast dates:
Links and Resources:
Music played in the program
Hour 1
J. S. BACH: Fugue in C, BWV 547 –Robert Quinney (1876 Metzler/Trinity College, Cambridge, England) Coro 16132
MARTÍN y COLL: Jacara. DIEGO FERNANDEZ de HUETE: Tarantela. ANONYMOUS: Jota –Manuel Minguillon Nieto, vihuela; Manuel Vilas, harp; Cristina Garcia Banegas (1691 Bosca/Santa Maria Church, Cadaqués, Spain) Solfa 1208070
GUY BOVET: Hamburger Totentanz –Mark Pacoe (1935 Aeolian-Skinner, 2012 Peragallo/St. Malachy's Church, New York City) Acis 21653
DAVID MARLATT: Earthscape –Chicago Gargoyle Brass/Rodney Nolmes, director; Jared Stellmacher (1982 Casavant/1st United Church, Oak Park, IL) MSR 1598
CHARLES-MARIE WIDOR: Kyrie, fr Mass for Two Choirs, Op. 36 –Les Petits Chanteurs du Mont-Royal; Les Chantres Musiciens/Gilbert Patenaude, director; Jonathan Oldengarm and Vincent Boucher (1960 Beckerath/St. Joseph's Oratory, Montreal, Quebec) ATMA 2718
WIDOR: Cantabile, fr Symphony No. 6, Op. 42, no. 2 –Gerard Brooks (1880 Cavaillé-Coll/Holy Cross Cathedral, Orleans, France) Fugue State DVD 010
PHILIP MOORE: Allegro deciso, fr Sinfonietta –Simon Thomas Jacobs (2013 Richards, Fowkes/St. George's Hanover Square, London) Fugue State 009
AMÉDÉE REUCHSEL: Meditation, fr 10 Pieces –Manfred Meier-Appel (1912 Stahlhuth-2002 Jann/St. Martin's Church, Dudelange, Luxembourg)
ALEXANDRE GUILMANT: Final, fr Organ Symphony No. 1 in d, Op. 42 –Pfaltz Theatre Orchestra/Uwe Sandner, conductor; Felix Hell (1965 Oberlinger/Protestant Church, Kaiserslautern, Germany) PercPro40072014
Hour 2
LOUIS COUPERIN: Chaconne in g –Alexander Boggs Ryan (1970 Aeolian-Skinner/Cathedral of Christ the King, Kalamazoo, MI) AS Legacy 326
CHARLES TOURNEMIRE: Petite rhapsodie improvise –Maurice Duruflé (1965 Aeolian-Skinner/Christ Church Cathedral, Saint Louis, MO) AS Legacy 322
HEALEY WILLAN: Fugue, fr Introduction, Passacaglia and Fugue –Albert Russell (1958 Aeolian-Skinner/Asylum Hill Congregational Church, Hartford, CT) AS Legacy 318
WIDOR: Allegretto, fr Symphony No. 1, Op. 13, no. 1 –Martin Bambauer (1862 Cavaillé-Coll/Church of St. Sulpice, Paris) Aeolus 10471
JACOB PRAETORIUS: Was kann uns kommen (2 verses) –Sietze de Vries (2013 Flentrop/St. Catherine's Church, Hamburg, Germany) JSB Records 011214
MICHAEL BURKHARDT: Korean Folk Song, fr Balboa Park Suite –Jung-A Lee (2004 Glatter-Götz-Rosales/Walt Disney Concert Hall, Los Angeles, CA) Music Mission 51892
HENRY LEY: Fantasia on Aberystwyth –David Briggs (1912 Walker/Sacred Heart Church, Wimbledon, England) Albion 21/22
HUGO WOLF (trans. Reger): 2 Songs, fr Spanish Songbook (Ach, des Knaben Augen; Herr, was trägt der Boden hier) –Edmund Connolly, baritone; Maxine Thévenot (2001 Reuter/St. John Cathedral, Albuquerque, New Mexico) Raven 973
JOHN WEAVER: Toccata –Patrick A. Scott (2013 Parkey/Providence United Methodist Church, Charlotte, NC) Raven 969