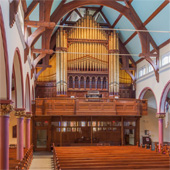 1883 Roosevelt at 1st Congregatioanl Church, Great Barrington, MA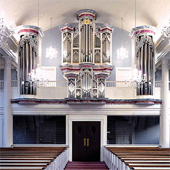 2000 GoArt Örgryte New Church, Göteburg, Sweden

1990 Möller at Calvary Church, Charlotte, NC

2004 Glatter–Götz–Rosales/Walt Disney Concert Hall, Los Angeles, CA
Musical Miscellanies
…a bit of this and a bit of that, from Bach to Boëllmann, enjoying organs and repertoire from diverse destinations.
Listen to the program
Users of Mobile Devices
For the convenience of those of you with mobile devices, now you can listen to our PIPEDREAMS audio at http://www.yourclassical.org!
Program Broadcast dates:
Links and Resources:
Music played in the program
Hour 1
HARRY ROWE SHELLEY: Fanfare d'Orgue. ARTHUR FOOTE: Cantilena, Op. 71, no. 1 –Rollin Smith (1883 Roosevelt/1st Congregatioanl Church, Great Barrington, MA) Repertoire Recording Society 12
LEON BOËLLMANN: Ronde Française. LEO SOWERBY: Prelude on Sine nomine (1955) –Peter Stoltzfus Berton (1921 Skinner/United Congregational Church, Holyoke, MA) JAV 126.
J.S. BACH: Neumeister Chorale-preludes, fr BWV Anh. II (Freu dich sehr, o meine Seele, Nos. 52/53; Canon in g, No. 72; Jesu meine Freude, No. 58; Allein Gott in der Höh, No. 48) –Stephen Rapp (1995 Richards, Fowkes/St. John's Lutheran Church, Stanford, CT) Raven 420
BACH: Jesu, joy of man's desiring, fr BWV 147; Liebster Jesu, wir sind hier, BWV 731. TRADITIONAL: How great Thou art –Dan Miller (1990 Möller/Calvary Church, Charlotte, NC) MasterSound 694
Hour 2
JOHN LEAVITT: Chorale Prelude on Song 13 –Marilyn Keiser (1997 Casavant/1st Baptist Church, Mount Gilead, NC) Pro Organo 7143
HEALEY WILLAN: Prelude & Fugue in c –Roger Fisher (1889 Brindley-1997 Wells/St. John's Church, Ranmoor, England) Amphion 165
CHRISTOPH BULL: Beethoven-Improvisation –Christoph Bull (2004 Glatter-Götz-Rosales/Walt Disney Concert Hall, Los Angeles, CA) Bull Run 00706
KARL SCHARNWEBER: Erhalt uns, Herr, bei deinem Wort –Thomas Klemm, saxophone; Wolfgang Schmiedt, guitar; Karl Scharnweber (1990 Schuke/St. John's Church, Neubrandenburg, Germany) Nabel 4642
JOSÉ LIDON: 4 Pieces for the Mass (Cantabile; Ofertorio; Elevación; Allegro) –Cherry Rhodes (2006 Dobson/Verizon Hall, Philadelphia, PA) Delos 3381
LEONARD BERNSTEIN (arr. Marshall): Wonderful Town Overture –Wayne Marshall (2005 Schuke/Philharmonic Hall, Luxembourg) Fugue State Record 006