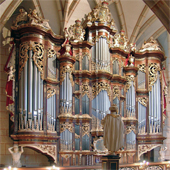 1739 Trost at Castle Chapel, Altenburg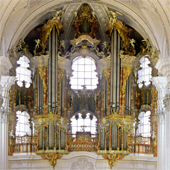 1750 Gabler at Weingarten Abbey, Germany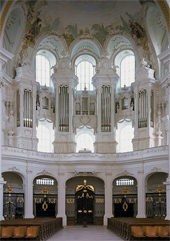 1798 Holzhay at Abbey Church, Neresheim, Germany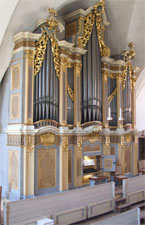 1735 Silbermann at St. Peter Church, Freiberg, Germany
The Only Crayfish in my Brook
…a tri–centenary salute to Bach's favorite and most prolific student, Johann Ludwig Krebs (1713–1780)
Program Broadcast dates:
Links and Resources:
Music played in the program
Hour 1
JOHANN LUDWIG KREBS: Toccata and Fugue in a –Felix Friedrich (1739 Trost/Castle Chapel, Altenburg) Querstand 9712
KREBS: Herr Jesu Christ, meines Lebens Licht –Norbert Kaschel, oboe; Felix Friedrich (Castle Chapel, Altenburg) Querstand 9903
KREBS: Prelude No. 3 in C; Herzlich lieb hab' ich dich, o Herr –Irmtraud Krüger (Castle Chapel, Altenburg) MD&G 331.0384
KREBS: Herzlich lieb hab' ich dich, o Herr –James Tinsley, trumpet; Edwin Swanborn (1969 Noack/Trinity Lutheran Church, Worcester, MA) Northeastern 211
KREBS: Herzlich lieb hab' ich dich, o Herr –Gerhard Weinberger (1750 Gabler/Weingarten Abbey, Germany) Christophorus 74565
KREBS: Fantasia in C; Wachet auf, ruft uns die Stimme –Laurence Dean, flute; Ute Hartwich, trumpet; Franz Raml (Weingarten Abbey) MD&G 614.0971
KREBS: Trio in d –Beatrice–Maria Weinberger (1798 Holzhey/Abbey Church, Neresheim, Germany) Motette 12711
KREBS: Von Gott will ich nicht lassen –Felix Friedrich (1735 Silbermann/St. Peter Church, Freiberg, Germany) Querstand 0018
Hour 2
KREBS: Prelude & Fugue in C –Gerhard Gnann (Weingarten Abbey) Naxos 8.553924
KREBS: Fantasia in G; Fugue in g; Fantasia sopra Herr Jesu Christ, dich zu uns wend –John Kitchen/1984 Collins/St. Peter Mancroft, Norwich, England) Priory 739
KREBS: Concerto for Two Keyboards (1st movement) –Irmtraut Friedrich, harpsichord (Silbermann); Felix Friedrich (1753 Silbermann/Frankenstein Parish Church, Germany) Querstand 0017
KREBS: Motet, Erforsche mich, Gott –Michaelstein Chamber Choir/Sebastian Göring, director; Felix Friedrich (1781 Schramm/St. Otto Church, Weehselburg, Germany) Querstand 0202
KREBS: Was Gott tut, das ist wohlgetan, fr Klavierübung –Concert Royal de Nancy; Dominique Ferran (1746 J–A Silbermann/Priory Church, Saint-Quirin, France) K617 002
KREBS: 2 Preludes in F; Fugue in f –Felix Friedrich (Altenburg Castle Chapel) Ars Vivendi 2100179
KREBS: Wir glauben all an einen Gott; Fugue on B–A–C–H –Felix Friedrich (1733 Hildebrandt/St. Wenzel Church, Naumburg) Querstand 0203
Johann Ludwig Krebs (October 10, 1713 – February 1, 1780) studied with Bach in Leipzig from 1726 to 1735, first as a member of the Thomasschule choir and, later as a University scholar, when he studied organ and was harpsichordist in Bach's Collegium Musicum. Krebs provided significant help to Bach in copying out performing parts for numerous of Bach's church cantatas, and was considered unrivaled (after Bach) as an organist, a matter that the intricacy of his wonderfully intriguing compositions proves. He was organist at the Court Chapel in Altenburg from 1755 until his death. In case you were wondering, Krebs means 'crab' or 'crayfish' in German; Bach is 'brook'.
Since 1971, Felix Friedrich has been organist at the 'Krebs Church', the Altenburg Castle Chapel. Michael Barone recorded some conversation with Herr Friedrich while visiting the organ loft at Altgenburg in 2002.
In addition to t he recordings listed above (several of which represent 'complete cycles' of the Krebs organ works…particularly from Felix Friedrich (Querstand) and Gerhard Weinberger (Motette), these additional artists have made important Krebs recordings:
William Porter…Klavier Übung (Loft 1026)
Olivier Vernet…Klavier Übung (Ligia 104136)
Peter Hurford…chorale-preludes for organ plus (Decca 430 208)
Jan Van Der Lar…organ works (Globe 5079)
Ildiko Kertesz and Geoffrey Thomas…Flute Sonatas (NCA 60214)