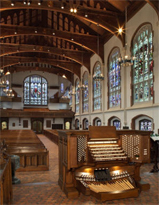 1963 Austin-2001 Zimmer organ at St. Luke's Episcopal Church, Atlanta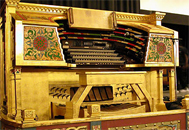 1929 Möller organ at Fox Theater, Atlanta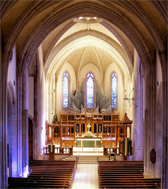 1961 Aeolian-Skinner organ at Episcopal Cathedral of St. Philip, Atlanta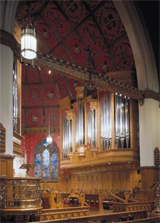 2003 Buzard organ at All Saints Episcopal Church, Atlanta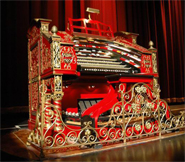 1927 Wurlitzer organ at Alabama Theatre, Birmingham, AL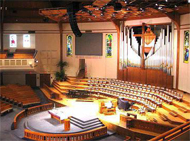 1989 Möller organ at Roswell United Methodist, GA
Georgia On My Mind
…classical and theatre organists, and some young competition winners, provide some sounds from the deep south.
Program Broadcast dates:
Links and Resources:
Additional Online Audio:
Check out this exclussive, online only audio. Michael speaks with Josh Perschbacher and also gives us a taste of one of his transcriptions. And we will hear two of the 2012 Taylor Organ Competition finalists – Benton Blasingame and Samuel Gaskin.
Listen From the 2012 Taylor Competition at St. Luke's Episcopal Church in Atlanta, hear Benton Blasingame perform Charles Tournemire's Chorale-Improvisation Victimae paschali laudes.
Listen Also from the 2012 Taylor Competition, hear Samuel Gaskin perform the Prelude & Fugue on A-L-A-I-N, Opus 5 by Maurice Duruflé.
Listen Arranger Josh Perschbacher talks with Michael Barone about his canny digital transcriptions for pipe organ.
Listen Enjoy another of Josh Perschbacher's MIDI arrangements, The Sorcerer's Apprentice by Paul Dukas, played by the Austin-Zimmer pipe organ at St. Luke's Episcopal in Atlanta.
Music played in the program
Hour 1
JOHN RUTTER: Variations on an Easter Theme (O filii et filiae) –Elizabeth and Raymond Chenault (1989 Möller/Roswell United Methodist Church, Roswell, GA) Gothic 49043
FELIX MENDELSSOHN: Sonata in d, Op. 65, no. 6 –Benton Blasingame (1st Prize). THIERRY ESCAICH: 2 Poems (Eaux natales; Vers l'espérance) –Samuel Gaskin (1963 Austin-2001 Zimmer/St. Luke's Episcopal Church, Atlanta).
Blasingame (1st Prize) and Gaskin (2nd Prize) were the winners of the 2012 Taylor Organ Competition, sponsored by the Atlanta Chapter of the American Guild of Organists (r. 4/21/12)
COLE PORTER: Aladdin Suite –Steven Ball (1929 Möller/Fox Theater, Atlanta) Ball 1001
HOAGY CARMICHAEL: Georgia on my mind –Bob van Camp (Atlanta Fox Theater) Atlanta Landmarks 1997
Hour 2
JOHN WILLIAMS: Imperial March, fr Star Wars. HECTOR BERLIOZ: Dream of a Witches Sabbath, fr Symphonie Fantastique, Op. 14 –Josh Perschbacher (1991 Austin/St. Luke's Episcopal Church, Atlanta) Intent 2006
DOM PAUL BENOIT: The Good Shepherd –Todd Wilson (1961 Aeolian-Skinner/Episcopal Cathedral of St. Philip, Atlanta) Delos 3145
JEAN BERVEILLLER: Mouvement. GUY BOVET: Le Bolero du devin Mozart. GARTH EDMUNDSON: Toccata on Vom Himmel hoch –John Scott (2003 Buzard/All Saints Episcopal Church, Atlanta) Priory 824
GEORGE GERSHWIN (arr. Eddington): The Grandeur of Gershwin (suite) –Jelani Eddington (1927 Wurlitzer/Alabama Theatre, Birmingham, AL) ALA 1783
VINCENT YOUMANS: The boy next door. JULE STYNE: Three coins in the fountain –Bob van Camp (Atlanta Fox Theater) Atlanta Landmarks 1997
The annual convention
of the
American Theatre Organ Society (ATOS)
centers in Atlanta this year (July 1-6,2013), with side-trips to Chattanooga and Birmingham. You are invited to attend this, too!