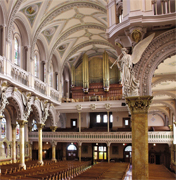 1876 Roosevelt organ at St. James Church, New Bedford, MA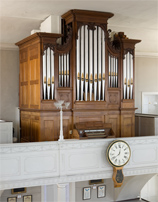 1834 Alley-1957 Fisk organ at First Religious Society, Newburyport, MA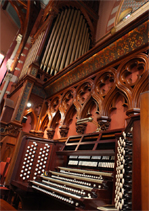 1921 Skinner organ at Old South Church, Boston, MA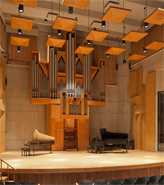 1974 Fisk organ at the University of Vermont, Burlington, VT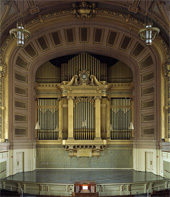 1928 Skinner organ at Woolsey Hall, Yale University, New Haven, CT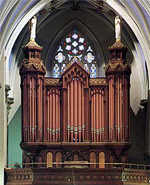 1871 Hook organ at St. Mary's Church, New Haven, CT
Nor'eastern Winds
…the lively and lovely voices of resilient American pipe organs are celebrated by the Organ Historical Society throughout New England.
Program Broadcast dates:
Links and Resources:
Music played in the program
Hour 1
JOHN STANLEY: Voluntary in G, Op. 7, no. 7 –Peter Sykes (1831 Appleton/Centre United Methodist Church, Nantucket Island, MA) Raven 320
EDWARD WHITE: Yankee Doodle Variations; Grand March –Marian Ruhl Metson (1834 Alley-1957 Fisk/First Religious Society, Newburyport, MA) Raven 190
DUDLEY BUCK: Variations on The Star-spangled Banner, Op. 23 –Christopher Marks (1876 Roosevelt/St. James Church, New Bedford, MA) OHS 05
JOHANN LUDWIG KREBS: Wer nur den lieben Gott (plus hymn) –David Dahl (1863 Hook/Elm Street Congregational, Bucksport, ME) OHS 92
JOSEF RHEINBERGER: Introduction & Fugue, fr Sonata No. 8 in e, Op. 132 –Bruce Stevens (1871 Hook/St. Mary's Church, New Haven, CT) Raven 180
LOUIS MARCHAND: Pieces d'orgue, Book 2 (Fond d'orgue; Basse de Trompette; Dialogue-Grand Jeu) –Joseph Payne (1974 Fisk/University of Vermont, Burlington, VT) Naxos 8.553214
MAX REGER: Melodia in B, Op. 59, no. 11 –Gunter Kennel (1870 Hook/First Unitarian Church, Woburn, MA) LabelHarp 75506
CARSON COOMAN: Trumpet Tune –Harry Lyn Huff (1921 Skinner/Old South Church, Boston, MA) Raven 932
Hour 2
EDWIN H. LEMARE: Rondo Capriccio, Op. 64 –Thomas Murray (1912 Austin/Merrill Auditorium, Portland, ME) AFKA 515
CHARLES-MARIE WIDOR: Variations, fr Symphony No. 8, Op. 42, no. 4 –Charles Krigbaum (1927 Skinner/Woolsey Hall, Yale University, New Haven, CT) AFKA 306
AMY CHENY BEACH: Invocation, Op. 55 –Robert Murray, violin; Ardyth Lohuis (1945 Aeolian Skinner/Christ Episcopal Church, New Haven, CT) OHS 94
CLARA SCHUMANN: Prelude & Fugue in g, Op. 16. No. 1 –Christa Rakich (1933 Kilgen/St. Justin's Church, Hartford, CT) AFKA 541
JOSEPH BONNET: Nocturne, Op. 5. no. 4. CHARLES GOUNOD (trans. Smith): Funeral March of a Marionette –Timothy Edward Smith (1912 Casavant/Church of St. Anthony of Padua, New Bedford, MA) Raven 920
GABRIEL DUPONT: Meditation. JEAN LANGLAIS: Chant Héroïque –Anthony Burke (1929 Midmer Losh/Church of the Assumption, Ansonia, CT) Raven 820
If you are curious to sample live the sounds of other historic instruments, this year's annual convention of the
Organ Historical Society
(OHS) convenes
in Vermont (June 24-29, 2013)
. Visit
their website
for details. You are invited to attend!