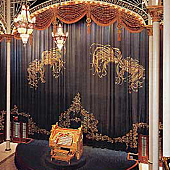 1927 Wurlitzer organ, Opus 1571, at Place de la Musique, Sanfilippo Residence, Barrington, Illinois
Double Duty
…a collaboration with Ken Double, President of the American Theatre Organ Society for a sampler of the popular-organ art
Program Broadcast dates:
Links and Resources:
Music played in the program
Hour 1
JULIUS FUčíK: Entry of the Gladiators -Ron Rhode (1929 Wurlitzer/Orpheum Theatre, Phoenix, AZ) Roxy Productions 116
COLE PORTER: Just one of those things –Simon Gledhill (1928 Wurlitzer/Fox Theatre, Detroit, MI) Clue CD-436
BROOK BOWMAN: East of the sun, west of the moon –Lew Williams (1938 Möller/Civic Auditorium, Pasadena, CA) Piping Hot CD-2001
J. FRED COOTS: A precious little thing called love. PAT BALLARD: So beats my heart for you –Jesse Crawford (1926 Wurlitzer/Paramount Studio, New York, NY) Piping Hot CD-2008
JIMMY DORSEY: Oodles of Noodles –George Wright (Wright Studio organ/Glendale, CA) Banda 438
ALEX KRAMER: Far away places –George Wright (1929 Wurlitzer/Fox Theatre, San Francisco, CA) Banda 9211
TRADITIONAL: Down by the riverside –John Seng (Wurlitzer/Mundelein Auditorium, University of St. Mary, Mundelein, IL) Pipe Organ Presentation 113
JACK STRACHEY: These foolish things –Bobby Hackett, cornet; John Seng (1928 Wurlitzer/Loderhose Studio, Long Island, NY) Sony Special Products 26656
RICHARD RODGERS: Babes in Arms (medley) –Mark Herman (1928 Page/Embassy Theatre, Fort Wayne, IN) Mark Herman Productions 1001
STEPHEN SONDHEIM: Send in the clowns –Tom Hazleton (1926 Wurlitzer/Nethercutt Collection, Sylmar, CA) Klavier 77006
Filler – COLE PORTER (see above)
Hour 2
CHICK WEBB: Vote for Mister Rhythm –Jelani Eddington (Wurlitzer/Saunders Studio, Zanesville, OH) RJE Productions 1677
LEROY ANDERSON: Jazz Pizzicato; Summer Skies; China Doll –Jelani Eddington (1927 Wurlitzer/Place de la Musique, Sanfilippo Residence, Barrington, IL) RJE Productions 1908
MANNING SHERWIN: A nightingale sang in Berkeley Square –Clark Wilson (1926 Barton/Rialto Square Theatre, Joliet, IL) JATOE 2005
TOOTS THIELEMANS: Blusette. STEVE ALLEN: Gravy Waltz –Dan Bellomy (1928 Wurlitzer/Paramount Theatre, Brooklyn, NY) DBP 1326
ASH-GOODWIN-SHAY: I'd love to call you sweetheart. GLENN MILLER: In the mood –Jack Bethards Band; Lyn Larsen (1929 Wurlitzer/Plummer Auditorium, Fullerton, CA) Beldale 429
ROBERT ALLEN: Chances are –Lyn Larsen (Wurlitzer/Organ Stop Pizza, Mesa, AZ) Musical Contrasts CD-211
PETE TOWNSHEND: Pinball Wizard –Charlie Balogh (Wurlitzer/Organ Stop Pizza, Mesa, AZ) ERB Enterprises 120
JIMMY McHUGH: Don't blame me –Skip Stine, trumpet; Ken Double (1928 Kimball/Dickinson High School Auditorium, Wilmington, DE) DTOS 2009
JOHNNY MERCER: Goody, goody! –Chris McPhee (Wurlitzer/Capri Theatre, Goodwood, Australia) CMCD 004
Filler – ROBERT KATSCHER: When the day is done –Lyn Larsen (1927 Wurlitzer/Place de la Musique, Sanfilippo Residence, Barrington, IL) Musical Contrasts CD-212
For an intense and enjoyable immersion in the theatre organ mystique, you might wish to attend this year's annual American Theatre Organ Society convention in and around Los Angeles, July 3-6, 2012.