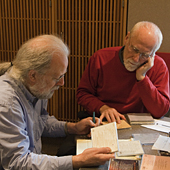 Michael Barone and Christopher Herrick in studio
Fireworks and Dreams
…music and conversation featuring internationally touring British recitalist Christopher Herrick, in celebration of his 40th anniversary as a recording artist.
Program Broadcast dates:
Links and Resources:
Audio Interviews:
Christopher Herrick recounts the trials involved in recording the complete Daquin Noels at the Church of St. Remy in Dieppe.
Herrick reflects on the future for his label, Hyperion Records, and the state of music in the world of new technology.
Music played in the program
Hour 1
DAVID N. JOHNSON: Trumpet Tune in D (1984 Harrison/Westminster Abbey, London, England, UK) Hyperion CDA66121
LOUIS-JAMES-ALFRED LEFÉBURE-WÉLY: Bolero de Concert, Opus 166 (1871 Henry Willis; 1924; 1933 Harrison & Harrison; 2004 Mander/Royal Albert Hall, London, England, UK) Hyperion CDA66258
DUDLEY BUCK: Concert Variations on The Star-spangled Banner, Opus 23 (1971 Aeolian-Skinner/St. Bartholomew Episcopal, New York, NY) Hyperion CDA66605
J.S. BACH: Trio Sonata Number 6 in G 3rd movement, BWV 530 (1988 Metzler/Stadtkirche St. Nikolaus, Bremgarten, Switzerland) Hyperion CDA66390
J.S. BACH (attributed): Chorale-prelude, Schmücke dich, o liebe Seele, BWV 759 (1975 Metzler/St. Michael Church, Kaisten, Switzerland) Hyperion CDA67263
LOUIS-CLAUDE DAQUIN: Noël Etranger, Number 12 in a (1739 Parizot; 1992 Dupont/Eglise Saint-Remy de Dieppe, France) Hyperion CDA66816
HARVEY GRACE: Reverie (2003 Pels & van Leeuwen/St. Nikolai Church, Halmstad, Sweden) Hyperion CDA67436
PAUL SPICER: Kiwi Fireworks, selections (1906 Norman & Beard/Town Hall, Wellington, New Zealand) Hyperion CDA66778
Filler –J.S. BACH: Trio Number 6 (see above)
Hour 2
J.S. BACH: Prelude in C, BWV 547 (1982 Metzler/Jesuit Church, Lucerne, Switzerland) Hyperion CDA66791/2
J.S. BACH: Fugue in C, BWV 564 (1983 Metzler/Stadtkirche, Zofingen, Switzerland) Hyperion CDA66434
JOSEF RHEINBERGER: Theme & Variations, from Suite, Opus 149 –Paul Barritt, violin; Richard Lester, cello (1988 Frobenius/All Saint's Church, Kingston upon Thames, England, UK) Hyperion CDA66883
MONS LEIDVIN TAKLE: Festmusikk (1992 C.B. Fisk/Meyerson Symphony Center, Dallas, TX) Hyperion CDA67577
BELA BARTOK: Romanian Folk Dances (2000 Kuhn/Berner Münster, Switzerland) Hyperion CDA67228
WILLIAM LLOYD WEBBER: Prelude, from 3 Recital Pieces (1954 Harrison/The Temple Church, London, England, UK) Hyperion CDA67060
FRANZ LISZT: Fugue on Ad nos, ad salutarem undam (2002 Letourneau/Winspear Centre, Edmonton, Alberta, Canada) Hyperion CDA67458
Filler –PAUL SPICER (see above)