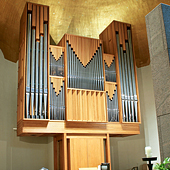 1982 Marrin organ at the Cathedral of St. Mary, Saint Cloud, Minnesota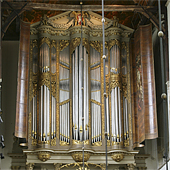 1725 F.C. Schnitger organ at Sint Laurenskerk, Alkmaar, The Netherlands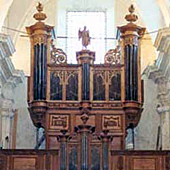 1714 Boizard organ at the Église abbatiale, Saint Michel en Thiérache, France
From "C" to Shining "C"
…through works of the Couperin Family, we provide a fog-reducing introduction to music in French Classic style.
Truly fit for a king. Their family dynasty served the Royal French Court, and French music, for nearly 200 years. The Couperins were masters of the keyboard and organists at the Church of Saint Gervais in Paris from 1653 to 1830. On our next Pipedreams broadcast, we'll explore their works: the majestic and austere verses and fantasies by Uncle Louis, the charming miniatures of the grandson Arman-Louis and his son Gervais-Francois, and the monumental and poetic Masses by François Couperin who was called "The Great" for good reason. It's a study of the evolution of style, and an introduction to the flavorful recipes of Classic French organ registration.
This week, we'll also hear program host Michael Barone demonstrate a few "French Classic" registrations with some illustrative performances. For anyone who has ever wanted to hear him play, here's your chance! The colors are rich, the rhythms saucy, the flavors as beguiling as a good French wine. We'll savor the art of the Baroque Organ in Paris, through music from four generations of the famous Couperin family: Louis, Armand, Gervaise, and Francois. From "C" to Shining "C", an introduction to elegance, this week on Pipedreams.
Listen to the program
Program Broadcast dates:
•January 29, 2001 as Show #0105
•April 16, 2007 as Show #0716
Links and Resources:
Music played in the program
FRANÇOIS COUPERIN [1668-1733]: Offertoire, from Messe pour les Paroisses –Pierre Bardon (1775 Isnard/Basilique Sainte-Marie-Madeleine, Sainte-Maximin la Sainte-Baume, France) Pierre Verany 785051/2
FRANÇOIS COUPERIN: Kyrie Verses, from Messe pour les Couvents –Michael Barone (1982 Marrin/Cathedral of St. Mary, Saint Cloud, MN) Pipedreams Archive recorded January 21, 2001
LOUIS COUPERIN [1626-1661]: Chaconne in g –Pierre Froidebise (1725 F.C. Schnitger/Sint Laurenskerk, Alkmaar, The Netherlands) Nonesuch LP-71020
LOUIS COUPERIN: 5 Pieces: Fantasie; Beata nobis gaudia Trio; Ave maris stella Trio; Duo; Beata nobis gaudia, en basse –Davitt Moroney (1714 Boizard/Abbey Church, Saint Michel en Thiérache, France) Temperaments CD-316001/02/03
ARMAND-LOUIS COUPERIN [1727-1789]: Dialogue. GERVAIS-FRANÇOIS COUPERIN [1759-1826]: Louis XVIII, Or the Return of Happiness to France –André Isoir (1714 Boizard/Abbey Church, Saint Michel en Thiérache, France) ADDA CD-581063
FRANÇOIS COUPERIN: Gloria Verses in alternatum practice, from Messe pour les Paroisses –Schola Meridionalis, Josep Cabré, conductor; Michel Bouvard (1775 Isnard/Basilique Sainte-Marie-Madeleine, Sainte-Maximin la Sainte-Baume, France) BMG/RCA CD-47004
Have you've been bewildered by such terms as grands jeux, tierce en taille, notes inegal and plein jeu,? Could you tell a Cromorne from a Kumquat if your life depended on it? Join us for a thorough explication of the French Baroque organ and its music. Though intended for church, this repertoire is rich in theatrical emotion, operatic lyricism, and the rhythm of courtly dance.