Organ Profile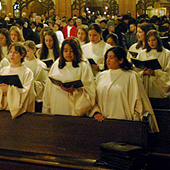 Notre Dame Women's Choir Singing Mass at Our Lady of Refuge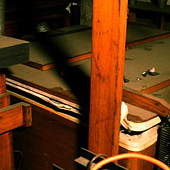 The organ had not been heard for several years because the bellows needed repair. Notice the ripped leather.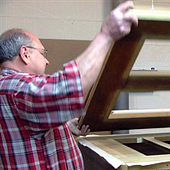 One of the two bellows being repaired in Alliance, Ohio at A. R. Schopp's Sons.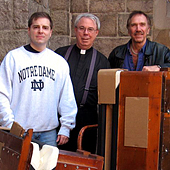 Two fully restored bellows being returned to Our Lady of Refuge.(L-R: Joe Vitacco, parishioner; Fr. Perry, Pastor; and James A. Konzelman, organbuilder.)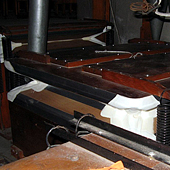 The bellows is installed and ready to go back to work.
1934 Kilgen organ at the Our Lady of Refuge Church, Brooklyn, NY.
All photos by Joe Vitacco.
In early 2006 Joe Vitacco returned to the parish were he grew up to see the condition of the pipe organ that inspired his interest, a 24 rank Kilgen designed by Charlie Courboin. Joe found the organ in an unplayable condition and decided he needed to help bring it back to life. He had two bellows restored with the help of James Konzelman. Because of this preliminary work, all of the bellows are fully functional allowing this instrument to awaken from years of silence. However the organ is in need of more repair. The entire organ needs to be re-leathered, relays need to be repaired and some of the pipe work has been damaged by humidity. Also, there is structural work to be done inside the organ chambers. He is working with the pastor and parish to pool resources in hopes of having the instrument protected from the construction and fully restored when work on the church is complete. Help Joe restore this unique instrument.
You can find out more about Joe's interest in the pipe organ by clicking on:
Joe's Amazing Venture
.
Programs that feature this organ
Links & Resources
More pipe organs